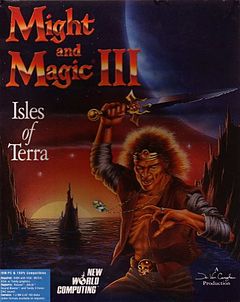 I've recently discovered GOG.com, the service that provides "good old games" from yesteryear to retro connoisseurs like myself. Games that used to run well on DOS and other long forgotten platforms are getting a new lease on life by being packaged up to run on today's technology.
Many games run on Windows, Mac and even Linux – but some are only available for single platforms, mostly Windows. The Might and Magic 6-pack is such an example, available for only $9.99 (a total bargain, considering it's 7 games).
I remember getting "Isles of Terra" free with a computer magazine in the nineties. I'm not usually into role playing games, but having enjoyed Bard's Tale III on my C64 many years before, I gave this one a shot and loved it – just like its sequels (Clouds of Xeen and Darkside of Xeen, together making up a whole new game called World of Xeen).
I wanted to find out if I'd still enjoyed this game today, so I tried installing it on my Mac using a Windows 7 VM with Parallels Desktop. However, it didn't run well and the mouse is interpreted rather weirdly. That's no surprise really, because it means I'm running an emulator inside another emulator. Of course things will go wrong!
Might and Magic is installed using the DOSbox emulator under Windows, and as soon as you click the launch icon, DOSbox is launched, and within it the actual game. Thing is, DOSbox is also available for Mac, several Linux flavours and some other exotic platforms – so I was wondering if I could somehow just run DOSbox on my Mac and launch the original files from within it.
To my surprise, it works great!
Let me show you how I did it in this article. Continue reading How to run Might and Magic III (from GOG) on your Mac →