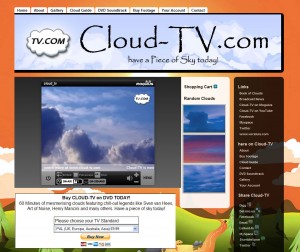 Dedicated to still pictures and time-lapse footage of beatiful clouds in the sky.
Great for meditation and relaxation. Featuring live streaming video and footage for download and use in your own projects. Also has information about clouds and cloud-related material.
This was my first ever WordPress project, which is why it's in desperate need of attention of a rebuild. I have recently given it a good facelift and merged it with The Book of Clouds.
I've also edited a 60min version of footage with a great chilled out soundtrack, but I find it's very difficult to "sell" this project with words. You really have to experience it to see what it's all about.
Head over to www.cloud-tv.com to check it out!