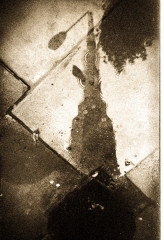 Versluis is a Dutch name, and not as uncommon in Holland as you might think.
I even met others Versluises one the web: Arthur Versluis is an author, and Paul Versluis is a professional photographer from Kansas City.
There's even Versluis Park somewhere in Michigan I believe. Maybe we should go there and setup a Versluis Meeting one day.
Sluis means "lock" in Dutch (as "water lock", not "door lock"), which indicates one of our ancestors probably was a canal fetishist of sorts. It's a closely guarded family secret though, so I wouldn't be able to comment.
For spam callers, it's always a challenge to pronounce the name Versluis. I admit I take great pleasure when someone starts with "Can I speak to Mr. [pause] Vsmls… Verrr… Hmpsghjksjk…" –  my response is usually "nah, never heard of him" before hanging up with a mean smile.
Popular misspellings of Versluis name include:
Verslius
Verlfis
Verfluif
Ferflus
Herr Luis
Mr. Lewis
Vergluis
Verse Luis
and many others. If you can think of a good one, drop me a line or leave a comment below.
😉