Many of you may not know this: between 2005 and 2008 Julia and I created a substantial body of artwork made with Kinetic Photography, long exposure pictures we took of light sources that became abstract super colorful images. It started as a fun experiment, but really took off when Julia put one up for sale on eBay.
Not only did it sell, it sold well and fast.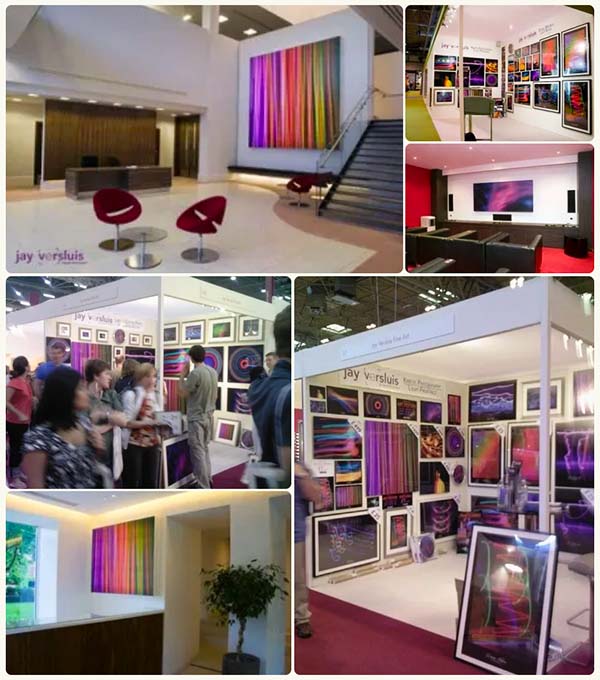 We were flabbergasted: we had something special that was fun to do, so we pursued it in our spare time. We shot more, experimented with different techniques and cameras, started doing larger prints of our work, mounted 3ft tall pieces onto expensive aluminium with acrylic finish on the front and sold limited editions close to £2000 a piece. We started showing our work at exhibitions around the UK and kept building a reputation for fresh abstract quirky artwork
We made it into Grand Designs several times, met interior designers who licensed our images for backlit installations around the country, we have work in the Saatchi Collection and many of our Limited Editions are in the hands of private collectors.
We did well.
Being a side hustle on top of our full-time TV jobs, the promotional work got too much and we decided there weren't enough hours in the day to make it a career and stepped back. We kept making pictures though, explored many other types of alternate photography, built up other bodies of work and eventually settled on the digital toys we play with today.
That's how it all started for us some 15 years ago.
Fast forward to 2021 when there's good reason to unvault our Light Paintings. They're ideal pieces to be enjoyed by a whole new generation of art collectors around the world as unique NFTs. I don't know much about how to "launch properly" by minting preferential whitelist prices and all that, but I wanted you all to be the first to know about this.
Our Kinetic Light Paintings collection is now live on OpenSea!
There are only 10 images to begin with, but we're planning to add the whole catalogue over the coming months, as we dip our toes into this yet unexplored ocean of NFT madness. All images unlock at the highest resolution I had available, anywhere between 3000 and 10000 pixels either side, depending on the image.
This is a big deal for us. It's a milestone that celebrates our past success and it commemorates our partnership powered by love and passion. It's a reflection of where we are today, and how we got here. It's a celebration of exciting creative ventures and the courage to try new things. We're continuously following our hearts and we're grateful to have a new opportunity to make the world a better place.
---
Smoking Blue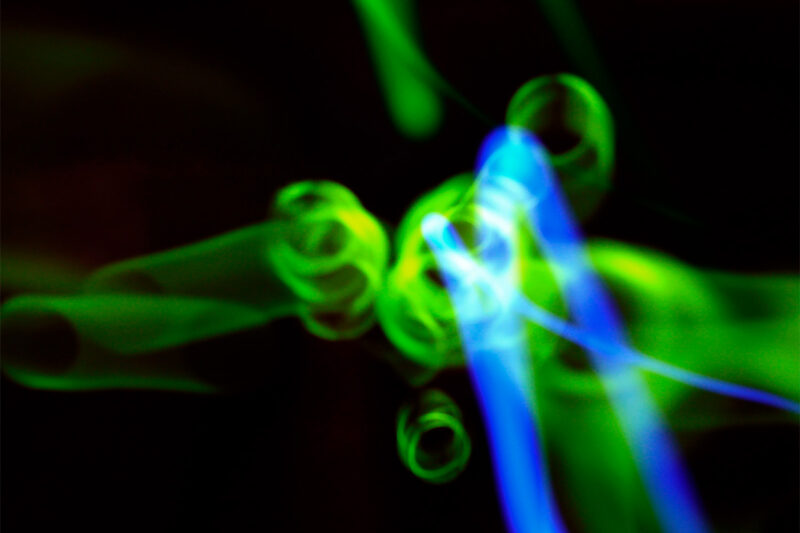 The first piece we ever sold was Smoking Blue (see above). This one was done with the signature green power ring on the original Xbox, and we thought it only fitting for it to be the first NFT we've listed on OpenSea, commemorating the 20th anniversary of the Xbox.
---
Aside from our Light Paintings, we have other collections that are perfect for a permanent move to the Blockchain. Watch my Twitter Feed for future drops!