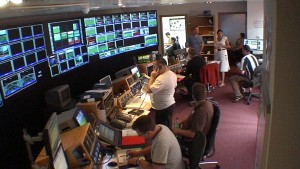 I've been working in television since 1991, when I began an apprenticeship as Film and Video Engineer in Berlin. I've been freelancing since 2000 in London and can look back on an extensive carrer working with clients such as
and many others. I'm actively involved in MCR and Studio VT work and have had some excellent EVS jobs with MTV. I have been editing on Adobe Premiere Pro since 1996 and am passionate about the convergence of web and traditional broadcast.
I also run an aggregator site called Broadcast News to help us all keep up with the latest developments in our industry.
And speaking of new developments, I have recently invested into two off-site servers for development and hosting.
I can help you with MCR work, Studio VT work, editing, encoding, hosting and web design jobs. Interested?  Well then…
Here's a list of projects I've worked on recently, followed by some clips from my showreel:
Missing Live – Leopard Films for BBC (Series 3)
Embarrassing Bodies Live – Maverick Productions for Channel 4
ESPN UK – Channel Launch and ongoing live feeds
MTV Digs – Continuity Links
English Premier League – International Distribution
Milkshake – Continuity Links for Five and Fiver
Pants Off Dance Off  – VIVA (formerly TMF)
MTV European Music Awards
RIBA / NBS Learning Channels
MTV Music Junkie (Pilot)
Ke$sha Unplugged for MTV
Crimewatch Roadshow – Leopard Films for BBC
MTV Movie Awards
Britain's Biggest Loser for Channel 4 (Grand Finale)
Channel Takeover with Pixie Lott
Missing Live – Leopard Films for BBC (Series 2)
SPOOKS (2007)
[flashvideo file="video/spooks.flv" /]
In December 2007 I had the pleasure to edit Episode #510 of Spooks for BBC's Interactive Drama department. The brief was to provide a "catch-up" edit for fans who had missed last week's show. Spooks is fairly hard to follow sometimes, so the challenge was to focus on the relevant bits, while not giving away the ending.
Check out one of the most exciting TV-Thrillers at http://www.bbc.co.uk/spooks
SENSE AND SENSIBILITY (2008)
[flashvideo file="video/sense.flv" /]
The BBC had commissioned Jane Austen's incredible drama for transmission in early 2008. I was booked to edit interviews with the cast, director, costume and set designers to provide a view behind the scenes. To keep the pieces to camera visually interesting, I went through all three episodes (180 minutes) to find footage the cast were referencing.
In total, I edited 7 videos for the BBC Sense and Sensibility website.
My Work on SOUNDART (2007)
[flashvideo file="video/soundart.flv" /]
We were fortunate to exhibit our Light Paintings on canvas speaker panels at the ISE in Amsterdam in 2007. Soundart had decided to put their flat panel speakers onto moving mechanisms so they could hide a TV screen. Future Automation builds these mechanisms, and we were on location to show you how it works.
Julia and I went out to Amsterdam, shot all the footage and edited several packages – here's a compilation of the two most interesting products. The mechanisms are smooth and slow, which is why I've sped up most of the footage.
Soundart have changed their name to Suono.co.uk – check out their website for more information.
TIMELAPSE WORK
I've always had this fascination with time-lapse footage. It's the only way we have to experience a different sense of time. My first project goes back to 1996, when I stood in a field for two hours without moving. It was raining and it wasn't pleasant – you can see the results in my logo at the front of the cK Clips below. Technology has advanced since then, and here's what I've been using it for:
CLOUD-TV: "Piece of Sky" (2008)
[flashvideo file="video/cloud-tv.flv" /]
Dedicated to beautiful clouds in the blue sky, Cloud-TV is a grandiose time-lapse project I've started in 2008. I've edited a full 60 minute version of the programme and I'm looking for distributors. The soundtrack features Sven van Hees, Art of Noise, Alucidnation, Henry Mancini and many other chill-out classics.
I currently have hours of HD and SD cloud footage, which I will gradually release this year. For more information visit http://www.cloud-tv.com
High-Speed Engineering (2008)
[flashvideo file="video/video-camera.flv" /]
When my very old Sony DCR-PC110E gave up, I had to do some surgery – thanks to a spare part that fell off a lorry. The Firewire port was loose and it didn't record audio anymore. Thanks to a set of Wickes screwdrivers, super glue and a cup of tea, I managed to make it operational again (until my wife dropped it several months later).
I did wonder where those leftoverscrews should have gone 😉 Music by The Chemical Brothers, "Star Guitar".
Premier League Weekend Mayhem at IMG Mediahouse (2009 + 2007)
[flashvideo file="video/MCR-Timelapse-2009-1k.flv" /]
Here's one of my freelance dayjobs: making sure that the English Premier League can be seen by billions of viewers outside the UK. IMG sell international rights on behalf of the FA, and my colleagues and I distribute these signals via a state-of-the-art MCR at IMG Mediahouse into the world.
Latest viewing figures indicate that live matches of top teams are being watched by up to 1.4 billion viewers across the globe – which makes domestic ratings look like the audience of a student movie.
Here's another example from 2007. The footage was filmed over a period of 10 hours, featuring me, Dav Maglio, Jeremy Bronitt and many others. The music is Root Beer Rag by Billy Joel.
Fastest VT Operator (2007)
[flashvideo file="video/mtvstudios.flv" /]
This was a 6 hour shift at MTV Studios for a news programme, on which I'm providing roll-ins and bumpers. The gentleman popping in and out grabs the tapes as we recorded them, and brings them straight to ingest for transmission within the hour.
Do you know anyone who can change tapes this fast? I didn't think so! Music by Kraftwerk: Xpo2k
EARLY YEARS
Anything I'm proud I did, but wouldn't class as "recent", here are some gems from the past.
PETER MULLER: M-Vibez Promo (2003)
[flashvideo file="video/peter-muller.flv" /]
When bass virtuoso Peter Muller released his first album in 2003, he wanted a documentary style video about his work and his album M-Vibez. I went to Bremen to shoot him at work in his studio with a cast of international musicians.
Peter has now released his second album "Flow", check out his website at http://www.petermuller.de
cK One: Bigger, Longer, Uncut (2000)
[flashvideo file="video/ckone-bigger.flv" /]
When I was working for Todd-AO in 1999, one of my jobs was to copy these Calvin Klein adverts from the late nineties. Mainly black and white, they were 30 second spots that had nothing to do with "cK One" or "Obession" fragrances.
The more I watched them, the more I became aware of the eerie mood these adverts were conveying. I wanted to create a movie-like version of these little pieces of art and put them into a different context, to explore the message they were trying to bring across. Hence this great compilation was born.
See if you can spot the odd celebrity in any of the 20+ spots I used for cK One: Bigger, Longer, Uncut.
cK One: Email (2000)
[flashvideo file="video/ckone-email.flv" /]
Calvin Klein had another series of colour spots, which were all about signle people "thinking out loud". As with the above project, I've compiled them into a whole story.
As music underlay, I utilised Mark Morgan's incredible ambient music I spent literally hours extracting from the Zork Nemesis videogame.
Blonde Muddis (1994)
[flashvideo file="video/Blonde-Muddis.flv" /]
In this sketch from 1994, my colleague Andre Grossman and I put on this production of a highly working class couple. I'm playing the mad mother, he's my drunk husband.
We used to be fans of Schmidteinander, a cult comedy show on German Television back in the days, and at one point they were looking for submissions. The theme was "Blonde Mothers", so Andre and I borrowed someone's baby, filmed it with his Betacam (non-SP) camera in his kitchen and edited it at Studio Hamburg.
Needless to say, they never replied… probably because our production values weren't low enough.