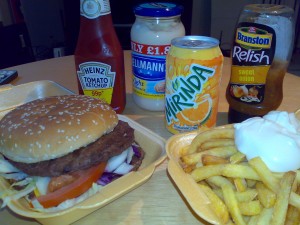 Sometimes, nothing says it better than a burger from a kebab shop.
Enter the Seven Sisters Kebab and Pizza store. It's been there forever, and although they were looking for a buyer not 12 months ago, the FOR SALE sign is gone for good and I understand in broken English that the proprietor is eager to keep the shop now. Which is good for us, because we only recently discovered that they do delivery. Hurra!
When I came home today, after a hard day at IMG (in fact, testing the new P2 WordPress theme, in between jobs) I realised that I only had soup and a salad, so I came home rather hungry. Why not try that Half Pounder with chips and a drink for a bargain price of £5? Deal!
Burgers from kebab shops have something in common with burgers from greasy spoon cafes: the supplier. There appears to be only ONE distributor of these kinds of patties on a piece of paper, and they all taste the same. Sure, it's all in the preparation, and you really don't want to eat one of those (let alone two) when they're fried.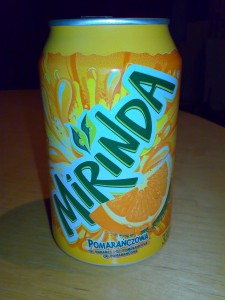 As with all food you get here in Da Hood (don't pronounce the "H", enter "innit" or "aaaai" where appropriate), it's grilled. 7 thumbs up for that already. But also, you get all the salad you'd expect from a good kebab. Add to that a good portion of fries, and I kid you not when I say: that's more meat than you want to know about.
Sauces include ketchup and mayo on demand, even chilli, garlic or burger sauce, but none of them are Heinz Deli Originals – so beware.
The verdict: for the price of £5, including a can of your choice, and considering two patties on the burger, fresh salad and a nicely toasted sesame bun, you really can't complain. Even if you know by heart that it's essentially a cafe burger you're getting, it's well prepared.
Speaking of the drink: I could hardly believe it when Mirinda caught my eye! Imported from Poland, made there by The Pepsi Co., it was the ideal addition to top this meal off. Somewhere in between Fanta, Tango and Orangina, that's where Miranda fits in. I've missed you – you made my day!
9 Thumbs up for sure, maybe even 10.