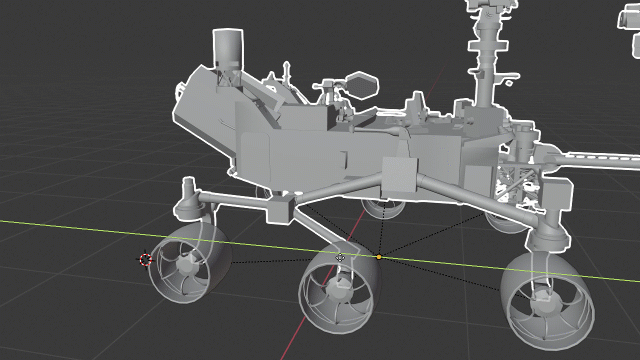 I've recently built a little animation during a live stream, and Rod's suggestion was to add NASA's Curiosity Rover into the scene. It's a freely available blend file, and I thought it was a great idea. It added a lovely character to the otherwise deserted alien landscape, and I quickly animated it into position.
Trouble was, the little guy was essentially an afterthought, and when I was watching the animation back, it became obvious that its wheels needed to be turning as it was driving around. While I was keen to do this, I had no idea what mechanism I should use for such an Endeavor (har har), or what Blender had to offer in this regard.
My first thought was to simply animate the wheels with keyframes, but this would be a lot of work, and if the rover's speed were to change I'd have to probably animate those wheels again. There being six and all, I discovered a better way to make the wheels turn, using something called a Driver.
Continue reading

How to make wheels turn in Blender 2.8