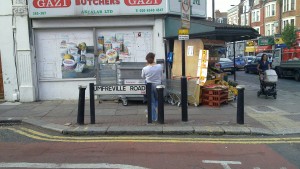 Yesterday on the corner of Umfreville Road and Green Lanes, some Fucker stole my bike! It was three weeks old and I loved it. I bought it from Evans for £549 – not to mention accessories worth over £100.
I had lunch at Harran, one of my favourite kebab shops on Green Lanes and had locked it securely against a lamp post on the street corner using a Kryptonite Evolution lock and an additional Kryptoflex band. When I came back after an hour, all that was left on the floor was a piece of Velcro from the Kryptoflex.
Apologies for some bad language in this post, but I feel it best describes my reaction to this incident.
I haven't seen anything unusual on this fairly busy and well lit street, apart from a "rag and bone" type van that was parked behind me. For a split second I was thinking, "these guys aren't going to grab my bike while they're at it, will they?" I didn't get their registration of course. It probably wasn't even them.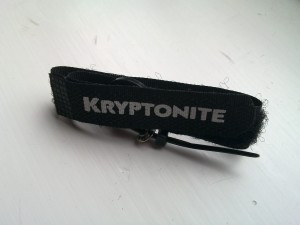 The guys from the off-license store on the corner didn't see anything either. The police were very helpful and had a look for CCTV cameras around the area, but the only one available was on the other side of the bridge hence it didn't see anything.
The bike was so new that I didn't get a chance to note down the frame number – so chances of finding it and proving it's mine are virtually zero. I wasn't insured either because I was thick enough not to renew the house insurance (who would have probably told me that I didn't tell them about the bike and wouldn't have paid anyway).
My only hope is to convince the Kryptonite people, who offer an anti-theft warranty with the lock I bought (worth a maximum of £900). However I can just hear what they'll tell me when I send them a piece of freaking Velcro as "proof that their lock failed". Maybe I should save my energy and the postage.
I have never been a victim of crime before, hence I feel very weird about this whole thing. I keep asking myself "why did this happen?" and "why me?", together with the usual ideas of "had I not gone to lunch that day…" or "had I parked that bike somewhere else" etc – which doesn't get me anywhere.
It's the thing that happens to "other people" – yet mentioning this to my colleagues I learn that bicycle crime in London is one of the most popular pastimes of the Lowlifes.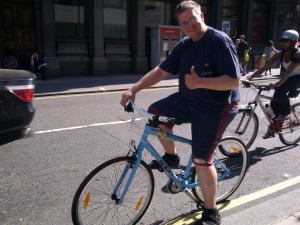 What's also getting to me is the question "What to do next?"
Am I going to buy another bike? The same one again maybe? Park it in the same place, use the same lock and observe if some other Fucker comes along with bolt cutters? Maybe I'd smash that guy's skull open and piss all over his pitiful excuse of a brain. That'll teach him a lesson!
Or maybe I should go down to Brick Lane and buy it back for £200 – if I find it.
And what if I were to actually spot it? Would I call the police and tell them? Would everybody just laugh at me? How would I prove it's my bike? And are those thieves celebrating their new acquisition, or it it just "another day at the office"?
It was a fairly unusual bike: light blue with white seat and handle bars, white rims, pink bell with blue stripes on the left hand side. It even had the brand new protection sticker on the top bar. My bike was a Scott SUB 30 Solution, and I've not seen another one like it on London's roads.
And I had plans for it too: cycle to Camden twice this week, twice to King's Cross with my wife so she can get the tube to work, and do a trip to Chiswick on Sunday. None of that is now going to happen now.
Meanwhile, my other bike has a rattling gearbox thanks to Sturmey Archer's "new and improved" 8 speed hub – the SHITTEST you have ever heard. The old one couldn't be repaired, but was completely silent before it broke after 8 only months of moderate use. This "new overhauled version" sounds like I've got a motorbike with a spanner stuck in the chain. It's a slow bike compared to my stolen one, and it takes me twice the effort to cycle with it.
It's not that I'm bitter or anything… I've just flushed £167 down the pan to "repair" my old bike, then went and spent £549 on a new one which some Fucker just stole from underneath my nose.
All in all I'm having a really great week!
So here are my choices:
Get depressed and give up cycling altogether (makes me very sad and angry)
Get a new bike and forget about the incident (makes me angry to spend the money, but happy to think of getting back on that bike, not to mention the happiness I'll get while riding it again)
Use my old bike and get really annoyed for the rest of the year (it would seriously make me mad to listen to that rubbish gearbox, and angry at the same time for having been ripped off by Finsbury-"we-haven't-got-a-clue"-Cycles and Sturmey-"we're-crap-and-it-shows"-Archer)