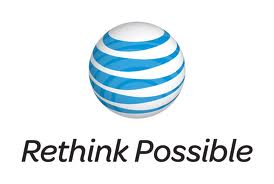 Since I travelled to the US last, AT&T have made some changes to the way you can use mobile data on your GoPhone plan. As of April 2012 you can no longer add data packages to the $2 per day plan. What a shame!
You'll now have to go on a monthly plan to use data (which you can cancel anytime without commitment), everything else remains and works with my previous instructions.
AT&T still do not officially support the use of iPhone on GoPhone plans. The closet thing is a GoPhone Smartphone Plan which comes with a $65 per month commitment… a little harsh if all you need is to not get lost in a foreign country and then tweet about it.
Lucky for us there's a much cheaper way to do this – so without further ado here's a detailed "how to get your iPhone working" guide for all those who are spending a few weeks in the US and don't want to pay £6 per 1MB roaming charges.
Getting a GoPhone SIM
First, get hold of an AT&T GoPhone SIM card. You get those at authorised retailers, AT&T shops as well as packaged with cheap-o-sucker mobiles from drugstores. Take your pick.
Next make sure you can get hold of a SIM card cutter. They're about £5 from Amazon, some slightly shady authorised AT&T dealers sometimes have them. Whatever they ask you, tell them you do NOT want to use data on your iPhone and that you know it will suck, otherwise they will want to sign you up for $65 a month or worse sell you a 2 year contract. Just get that SIM, cut it yourself or have it cut for you and ask them to sign you up for the $25 per month GoPhone plan.
In case they confuse you in the shop, there are three possible plans you can use on GoPhone:
the $2 per day plan (doesn't allow data add-ons anymore)
the $25 per month plan (250 minutes, unlimited texts, allows data add-ons)
the $50 per month plan (unlimited minutes, unlimited texts, allows data add-ons)
You want option 2. Tell them to sign you up for that plan, pay for it in cash or by card, then beat a hasty retreat. Sometimes they want to charge you for a SIM card or entice you to buy some accessory (such as "hey these iPhone headphones are complementary… that'll be $30 please", incidentally the price of the headset). See if you can talk yourself out of it because technically a SIM card is free, they'll make money from your calls. Tell them that. Then make sure you beat a hasty retreat.
Getting the APN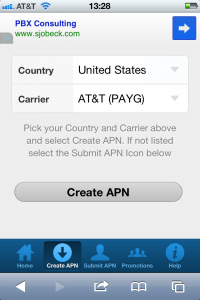 Now go somewhere that has free WiFi and make sure you can access it. Outside an Apple store is always good, coffee shops are great, even your hotel room may have it. All you want is to connect to the internet with your iPhone for a moment.
Once you've verified that you can google things, head over to http://unlockit.co.nz. From there you'll be able to download the settings you need so that AT&T will allow data connections via 3G/4G.
The site has changed slightly and now resembles an iPhone app. Sweet! Pick USA from the list of countries and find AT&T (PAYG) on the list. There are other AT&T settings but let's ignore those. Pay As You Go is what you want.
Click Create APN and your iPhone will bring up a window which will prompt you do download the APN. Hit install, and after a few seconds you're all set.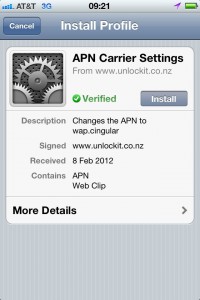 NOTE: You can only have one APN installed at a time – so your current provider may have already provided one. In that case you'll receive an error message to that effect. No problem: head over to Settings – General – Profiles and delete the APN under Configuration Profiles (in my case it was O2 APN Postpay something or other). Click on it and hit remove. Don't worry, you can bring those settings back later. Once that's gone switch back to Safari and download the Unlockit.co.nz APN again.
Right, you're nearly there. Let's deal with AT&T next.
Getting a data add-on
If you're already signed up for the $25 per month or $50 per month plan, dial 611 from your phone and follow the voice prompts to "buy feature packages". If you're on the $2 per day plan you must change to one of the monthly plans first for these to be available.
You'll get the option to buy one of three data packages:
50MB for $5
250MB for $15
1GB for $25
Pick whichever one you like. The amount is deducted from your prepay balance immediately. Now you can switch off WiFi and google something – and if all went well you're now on 4G mobile data, with iPhone and without the penalty of extortion. Congratulations!
Need more data?
If you run out of data you can simply buy another data package. You'll never be charged automatically unless you sign up for that. Your monthly plan will only renew itself as long as you have enough prepay balance so make sure you top it up every so often. If you choose to auto-renew the data package then your unused data will roll over to the next month.
Top up regularly or your number disappears
You prepay balance can be topped up via the phone, just call 611 and follow the instructions. If you do not top your phone up your plan cancels itself automatically on the next billing cycle. This also means you'll lose your US number. If this happens be aware that you cannot re-activate the SIM you've just cunningly got working.
Not only that, you will also lose the rest of your prepay balance!
If you don't need your plan anymore but want to keep your number so that you're ready to surf the web again when you get back to the US, change your plan to the $2 a month plan. If you don't make calls this costs you nothing.
How long you have before your number expires depends on how much money you top up:
below $25 – expires after 30 days
up to $50 – expires after 90 days
$100 and more – expires after 365 days
Note that you cannot use GoPhone abroad (at least not in the UK), so you can't top up by dialling 611 when you're back home. You can do this via the internet though, for details take a look at this link on the AT&T website.
Well there we are: maps and emails on your iPhone while you're on holiday for $30 which is less than £20.
Need more minutes?
I hadn't anticipated that 250 inclusive minutes also counts against your INCOMING phone calls. That's like in the olden days and unlike anything we've ever had in Europe. I am so used to incoming phone calls being free that I was a bit shocked when I found this nugget of information out the hard way.
When you go over your included minutes you'll be charged 10c per minute thereafter. Be aware that even phoning your voice mailbox as well as 1-800 numbers will be deducted from your inclusive minutes. As I found out 250 isn't all that many when you add them all up.
If you want to go for the $50 per month unlimited calls and texts plan, but you also want to add the 1GB data package then your total would be $75 per month. That's a tad hefty.
The good news is that AT&T have introduced a GoPhone Smart Phone plan for $65 per month which gives you the same unlimited talk and text, plus 1GB of data – so you're getting it for $10 less.
Alternatively you could go for a Skype number and use that for incoming phone calls (and yes, you can use Skype via 3G/4G on GoPhone). A one hour phone call on Skype is about 50-60MB, even with occasional video.