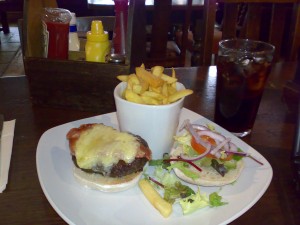 Excellent! Bloody excellent is all I can say!
But to get a consistent review across the board, we'll have to define some variables first that make up a good burger.
I tend to expect a ballpark figure of £10 for such a meal. Here's my thoughts on this one:
THE BURGER: SUPERB stuff. About an inch thick, slightly smaller than a DVD and fills out the entire bun. I don't like a gap. Not just steak mince put together, there's other things going on to hold it together, like we used to do at home. Excellent tase, consistency and everything else really – added cheese and bacon make it one to remember.
THE BUN: It's a ciabatta like roll, very fresh, not like the sweet sesame thing you get with American burgers. This one's pub-style British, and it shows. A+
FREE EXTRAS: Ketchup and Mayo by Heinz, served in a squeezy bottle. French's mustard and Sarson's brown vinegar. Quality.
CHIPS: served in a bowl, classed as medium fries. Lovely with mayonaise, and in fact remind me of Dutch chips.
PRICE: £9.80 served with a pint of coke. Also comes with free WiFi provided by Half Minute Media. Nice touch! I like a bit of WiFi with my burger.
OVERALL RATING: 11 thumbs up – very scrumptious! You've got to taste this one!