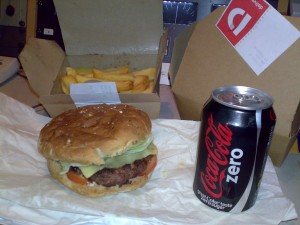 A perk of freelance work is the occasional free food that comes with a strenuous long shift. When we do Premier League at the weekend, we get a meal from http://www.deliverance.co.uk, and of course Burger and Chips is a classic among colleagues.
Deliverance send food into West London and cook anything from Chinese, Thai, Indian, European, American and all the rest of it. If something goes wrong, they give you a "store credit" or replace your food. It feels slightly odd to talk to the "cusomter services department" instead of a delivery service though. Either way, your food comes labelled and wrapped up in paper, a bag, and that then comes in a brown box – looks pretty cool I dare say.
Here's what I think of the Burger and Chips in detail:
THE BURGER: 1cm thick and very nice. 12cm diameter (the size of a DVD), fills out the entire bun, seriously lean. You can get them to cook it to order (mine is well done and so it should be). This is a good one, and it's organic too! Only downside is the danger of arriving slightly cold – which might be down to delivery time.
THE BUN: soft granary, with iceberg lettuce, mayo, relish, tomato, cheese and even a hint of onion. Great.
CONDIMENTS: you get one portion of ketchup, mayo or aioli free with chips. Comes in unmarked containers, but tastes like Heinz (that's the only thing that matters).
THE CHIPS: chunky, but cold on arrival; can also be sweaty, and are usually unsalted; they're trying to be chip shop chips, but celarly aren't. Minus points for that. The chips ship in cute brown boxes.
PRICE: £9.50 for the burger, (50p less if you want it without cheese), £2.50 for the chips (and 60p for a can of coke from upstairs), that's a total of £12.60 I think. Rather hefty for a delivery service, but I guess we pay for quality at the same time.
I think as far as a delivery service goes, this is a very good burger, despite the price, and comes close to options like Gourmet Burger Kitchen and Ground, which you couldn't get delivered. I don't recommend the chips, even though I order them every time.
My verdict: 9 thumbs up!