There's me having a creative blitz, only to find out someone has already done it!
Since I've started my video blogging extravaganza Today in My Life, I'm really getting into it. In fact, it's feeding into all kinds of other ideas I'm getting. You could argue, I'm inspiring myself – that's a very interesting experience!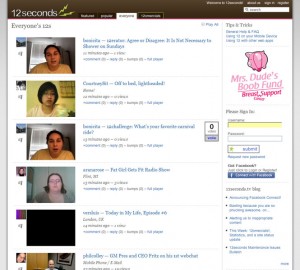 What I like about the series is that I'm using video footage like I would use Twitter or Facebook: put out a random thought, short and sweet, and that's the end.
The difference between this method and classic "video blogging" is that with the latter, there are no time constraints. You could ramble on for minutes, which bores you to death when you watch it back next week. So I thought, maybe there's a way to utilise Twitter's API, combine it with YouTube's API, and create TwitVid.
Could work in the same way as TwitPic, then post via direct capture, MMS, email or upload. But the important bit is to introduce a time limit on how much you can actually post. Once done, the system would automatically Twitter this to your account.
Friday evening, I thought to myself: "This would be very cool". Come Saturday morning, I mention this idea to John Williams. Highly excited, I did a Google search on "Video Twitter" and am already checking domains.
After about 30 seconds of research, of course I find 12seconds.tv – doing PRECISELY what I've just thought up, and they do it since sometime last year. Shortly after, John sends me an email telling me about this service too.
At first I was a bit disappointed that someone else had this idea before me. But then I thought, there's obviously a gap in the market, sharing my philosophy – so I joined immediately! And so should YOU, dear reader!
From now on, the series available on this site as well as 12 seconds – check out my brand new channel at http://12seconds.tv/channel/versluis/