I thought it would fit in with the current "warholised" theme to write a review about my experience with Pop Cam. It's been sitting in my drawer unniticed far too long, so here's the attention it deserves. Pop Cam is a highly underrated plastic camera, and if you're thinking about getting one, I highly recommend it. It's a lot of fun!
Some History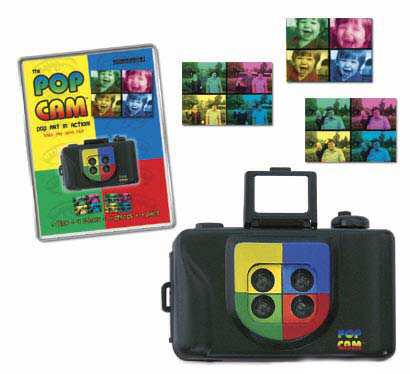 When I first bought the Pop Cam, I wasn't really into all that lomographic alternative photography malarkey.  I did like Pop art though, and loved photography, and as a sucker for all novelty items that trigger my taste buds, I invested £15 at the Urban Outfitters Store in Covent Garden. That must have been a good six years ago now.
I was a bit disappointed back then when I first saw the first results: everything was fairly dark, not highly colourful as I had imagined, and on top of that things were a bit "too close for comfort".
Since then, I've shot with a lot of plastic cameras, and I thought it time to give the Pop Cam another whirl. And look at the results: Andy Warhol would be proud! After all, I bet the inventors had his work in mind when they set out to produce this camera.
Features
Pop Cam is similar to the Lomography Actionsampler. It takes 4 pictures in succession within roughly one second, clockwise from the bottom left to the bottom right. This is achieved by a spring loaded mechanism on the inside, which gets wound up when you forward the film.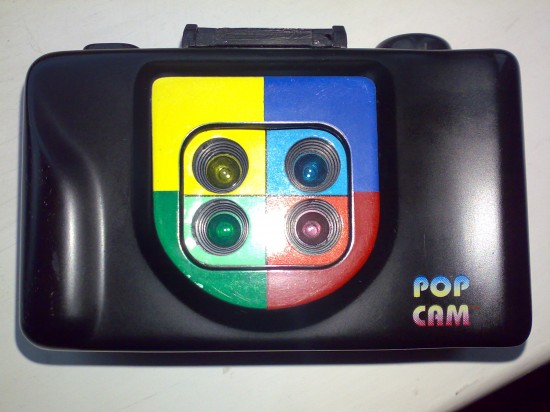 Each of the four lenses is made of coloured plastic, so you end up with four tinted semi-identical pictures on the same piece of film: green, yellow, red and blue. The exposure takes little over one second, so when your subject moves, or you move the camera, you'll record that movement.
Each picture is taken at roughly 1/100th of a second (give or take 50%) at what looks like f10 or thereabouts. We're dealing with a fixed focus camera here, and I can only guess the focal length of probably 50mm.
Apart from that, the camera features a pop-out rangefinder, a wide shutter button and a film rewind crank. It also has a film counter at the bottom. That about wraps it all up. No flash hot shoe, long exposure button or anything else that could possibly be adjusted.
The overall build quality is extremely cheap, much cheaper than what Lomography have on offer (and you thought that wasn't possible). But then, that's reflected in the price I've seen on the web – some companies offer this little gem for under $20! Are you listening, Lomography?
What's under the hood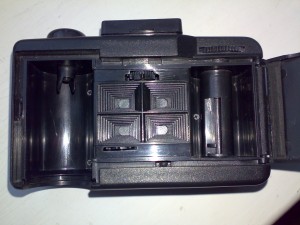 Not a lot, apart from four individual caverns. All of them have a proper light chamber, which is funnelling out from each lens to the film. Some cheap cameras saved some production costs here by just making these chambers square, so I appreciate the anonymous makers of Pop Cam for not skimping here.
You'll also find a flimsy excuse for a pressure plate which holds the film in place. It's not spring loaded or anything, but certainly nice to know it's there.
Shooting on Pop Cam
After a few serious rolIs I find that framing is very inaccurate, with or without the viewfinder. That said, part of the plastic shooter's fun is to not think too much about what you're doing. Spontaneity is the spice of such photos, so ignore the pop-out viewfinder and see what comes out.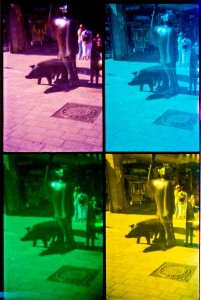 You're safe to stay away a bit from your subjects though. Not that I found any focussing issues, but it's a bit like shooting with a 200mm lens closeup. Technically, and if my guess of 4x 50mm lenses is correct, you're only using 25% of film for each shot. It's the same effect you get when shooting with your digital SLR that has an APS sized sensor: you're adding to your focal length. You get the drift. Pop Cam gets up close a little too much for my liking.
It also seems that the four images are seeing slightly different pieces of reality. I bet nobody ever lined them up properly, and no two cameras produce the same fault. We know this from Holga and his friends.
But then, with a bit of strong sunlight on your side, Pop Cam goes a long way and will happily produce instant retro style pieces of art! I bet Andy Warhol is jumping for joy!
Don't use Pop Cam indoors, you really want a lot of light to bring out the colours. Use 400ASA film or faster, and don't be shy to boost the colours after scanning.
[nggallery id=25]
You can see some more of my Pop Cam shots right here on this site, or on Flickr.
Where to buy Pop Cam
That's a tricky one. Google and eBay are your best bet, and stockists change often. I don't even know if this camera is still in production, or if all we see is deadstock.
Good luck, and happy warholising!
😉