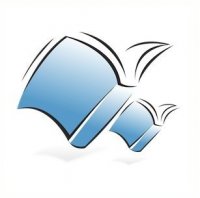 I've just discovers a new software called Storyist. It's a tool for writers that lets you outline ideas on index cards, then shift them around using drag and drop. Full written sections follow along in the manuscript.
For me as a lifelong Word user, discovering Storyist is like discovering plutonium!
I'm writing several how-to manuals for clients and I'd like to expand them into larger editions for sale on Amazon. Writing these longer-than-5000-word articles proves to be a pain in Word and Pages because even though these are very great text processors, they not support creative brainstorming.
So I was looking for an iPad app that behaves like index cards. I heard that writers often use them, and I can understand the benefits of such a workflow. My original idea was to use index cards to jot down loose ideas, bringing together what I want to write in principle but not worry about the correct order. I would then move them into something that makes more sense to the reader, adding chapter marks as appropriate and then start writing accordingly.
These apps exist, but one that stood out from the crowd was an ambitious app called Storyist: it promises to bring index cards as well as a text processor together, thereby giving us a complete writing tool. The more I looked at it the better I understood that Storyist was addressing exactly what I wanted to do, from a creative writing perspective.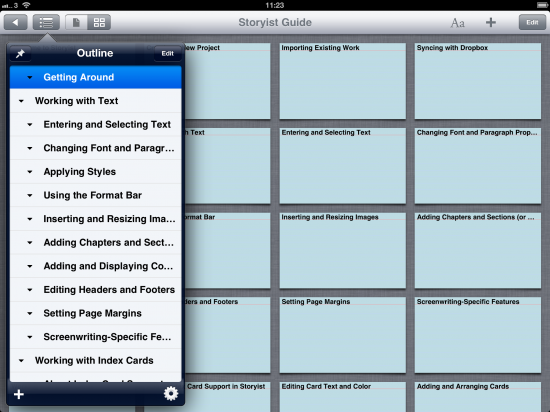 I downloaded the desktop trial version and it became clear that I had discovered something extremely precious, something that would potentially help me achieve my writing on a much more efficient and practical scale than I had thought possible.
What totally convinced me were the additional features any aspiring writer ultimately wants to use: make your work look good and eventually distribute it. Storyist helps you out there: a couple of templates can get you started for a nicely formatted Novel, complete with Times formatting, section and chapter settings. It even creates a Table of Contents from these sections for you.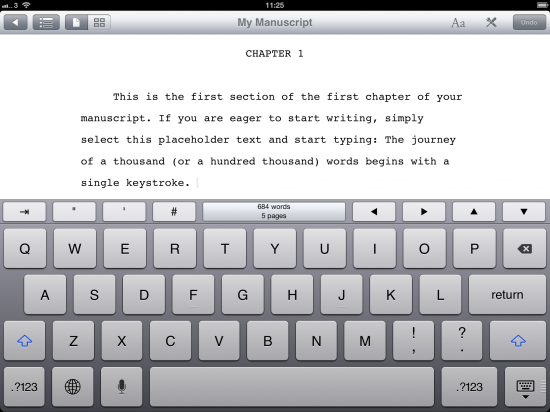 Another template you get is for writing stage or film dialogue scripts (a la Final Draft, a format Storyist understands too).
You also get a plain text template with standard headings just like we have in Word and Pages. This is just as good, especially because you can override all formatting styles for when you'd like to start with a clean slate.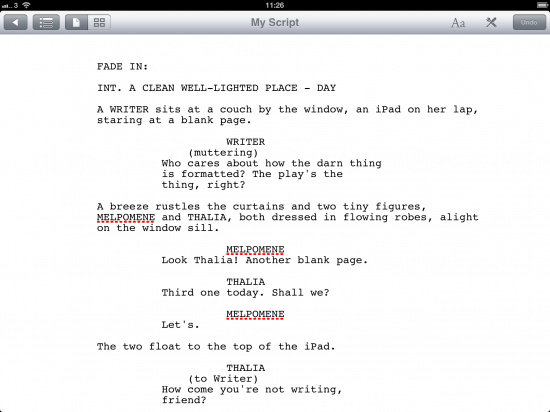 Special setting sheets round off the package: you can develop settings and characters, even import pictures for inspiration and – most importantly – to come back to while you're getting lost in the nitty gritty of your story.
But Storyist goes one step further: when you're done writing, it's no good having a PDF of your final draft for distribution. You really want your work to be read on Kindle and tablet devices, and hence you need to be able to produce formats for e-readers. And to make money you're probably better off publishing your work on Amazon, the iBookstore and Barnes & Noble.
Guess what: Storyist can do all that for you!
I addition to PDF you can export your work as IPUB and MOBI formats all HTML formatting is taken care of. Note to Kindle publishers: If you inserted pictures into your manuscript these are automatically resized to be 127kB – the largest file size allowed by Amazon right now. Higher resolution is retained for non-Amazon exports.
Several screencasts explain how to do this on storyist.com, all done by Steve  Shepard. He's the creative brain behind Storyist. As an avid writer he was looking for the tools to support his writing, and not being able to find these he decided to create them. That was back in 2003, so Storyist has been around for a while. Thank you for your hard work, Steve!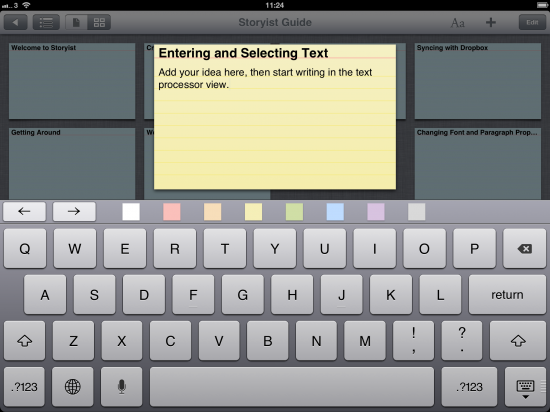 I am very inspired with Storyist: I have finally discovered a way of writing that is working better for me than having lose ideas in my head and then putting them down in Word or Pages. I frequently lose the bigger picture of longer write ups, and editing those becomes more cumbersome the bigger your document grows. With Storyist it's a matter of drag-and-drop.
I love the idea of being able to bring my work back and forth between my iPad and my laptop, being able to edit / add / amend everywhere I go, thanks to one-touch Dropbox sync integration. Writing on the iPad works extremely well despite the limitations of not having a full keyboard and a very limited screen. But for sketching out a high level view of a larger document and working on it no matter where you are is seriously rules. Steve has also hinted at a forthcoming iPhone version. Nice!
You'll probably think that this is going to set you back quite a bit financially. But you'll be surprised to hear that at the time of writing Storyist for Mac is a measly £40, and the iPad app is only £6.99, on par with Pages. Where I come from that is not a lot of money and in fact very affordable for what you get.
Give the trial version a go and have a play for a couple of weeks. For me it's been a revelation in writing and I'm looking forward to putting it to good use.