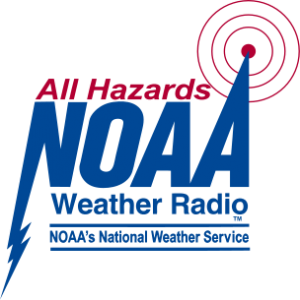 We have something here in the US that most Europeans don't know about: a nationwide weather radio service called NOAA Weather Radio. The service is broadcasting 24 hours a day, 7 days a week, and it has been around since 1953.
Transmitting from over 1000 towers across the US, they have 7 frequencies just above the FM band. Those can only be received with special radios. I was very excited to find out about it!
We recently bought such a radio because we live in a hurricane prone area – and because I've always liked broadcast technology.
Canada have a similar system called Weatheradio Canada which uses the same frequencies to broadcast and the same devices work with both services.
NOAA's National Weather Service
The NOAA Weather Radio sounds a bit like a numbers station, probably because it uses computer generated voices instead of "real people" – which I understand was the case many years ago. By using computer speech the service can be highly targeted to very small areas.
Here in Miami Beach I can hear three towers, and even a fourth one at night:
The service gives detailed weather forecasts and descriptions, including tide times and what the waters around us are like (such as "bay water is a moderate chop"). It's all quite pleasing to listen to, and very educative.
We have three voices here: Tom reads the main bulk, and he sounds a bit like the "classic British Siri" voice, or the voice from the Kindle Keyboard. Then there's Donna, his female equivalent, who reads sunrise and sunset information as well as tides and maritime things.
Before these two were introduced, the first electronic voice was called Tom – but most audiences didn't like him from what I understand. Rather than ditch him completely, he's used to read the Station ID every 10 minutes (like "This is the voice of the NOAA Weather Radio, station XXYZZ, broadcasting on a frequency of xyz").
Showbiz is tough! I personally enjoy all three voices they have, but from what I read other counties have different voices (mainly pitch variations of the existing ones), or hold votes as to which voice the audience prefers – which then gets to read them.
Emergency Broadcasts
Weather and maritime news aside, the service may also broadcast other warnings from time to time, such as national security emergencies, natural, environmental and public safety announcements.
NOAA Weather station radios have an option that leaves the device in standby mode, and if something drastic happens a special 1050 Hz tone is broadcast for 10 seconds, at which point such devices kick in and switch themselves on. Allegedly there are tests once a week but sadly I've not managed to get one of those transmissions yet.
Some devices can even tune into a subset of the area served by a frequency so that a very narrow part of the country can be alerted. This is done using something called SAME Technology (stands for Specific Area Message Encoding). Fascinating stuff!
So which radio did you get?
You can't pick up the weather band with standard radios, so we needed a special one. This seemed a great idea anyway because we neither read the papers or watch TV – so if anything drastic is happening in the world we're probably the very last people on earth to find out (we sleep extremely well at night by the way).
Julia did some research and decided to buy the excellent Ambient Weather WR-335 with Solar Bag, also known as the Adventurer 2. It's exactly what I would have picked too. Not only does it get the weather band, it also has an FM, AM and Shortwave Tuner and so many charging options that even in the biggest time of crisis this thing isn't going to run out of juice:
rechargeable Li-ion battery, replaceable
charges via micro USB from anywhere
comes with a standard mains charger
built-in mini solar panel for self-charging in sunlight
larger solar panel bag for full charging
also takes optional AAA batterie
a then there's a hand crank if everything else fails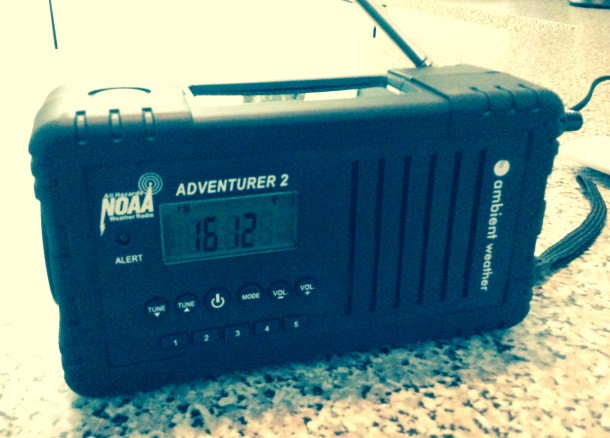 The device can even charge other devices like mobiles and tablets. It's very rugged and comes in a rubber casing – it even has a flashlight and a siren to attract attention. In a nutshell: your best friend if the rest of your neighbourhood lies in ruins and batteries count as currency – which could happen at any moment.
Check out Julia's very detailed review of the Adventurer 2 here – it's on a temporary URL (I'm testing a new server on that domain).
I can't get enough of the soothing voices from the NOAA Weather Radio. I also enjoy discovering what's happening on the local FM and AM bands, as well as the mysteries of the Shortwave Band.
In fact it's so addictive that I've ordered two other radios specifically for Shortwave Adventures – but I'll tell you more about those another time.
But I haven't got a weather radio…
There are several online streams of many stations available here. These are not provided by NOAA and instead rely on some dude plugging his radio into a computer. I hear that some local broadcasters carry local NOAA audio when they're not on air.
Someone even made an iPhone App that allows you to listen on the go (it wasn't me).