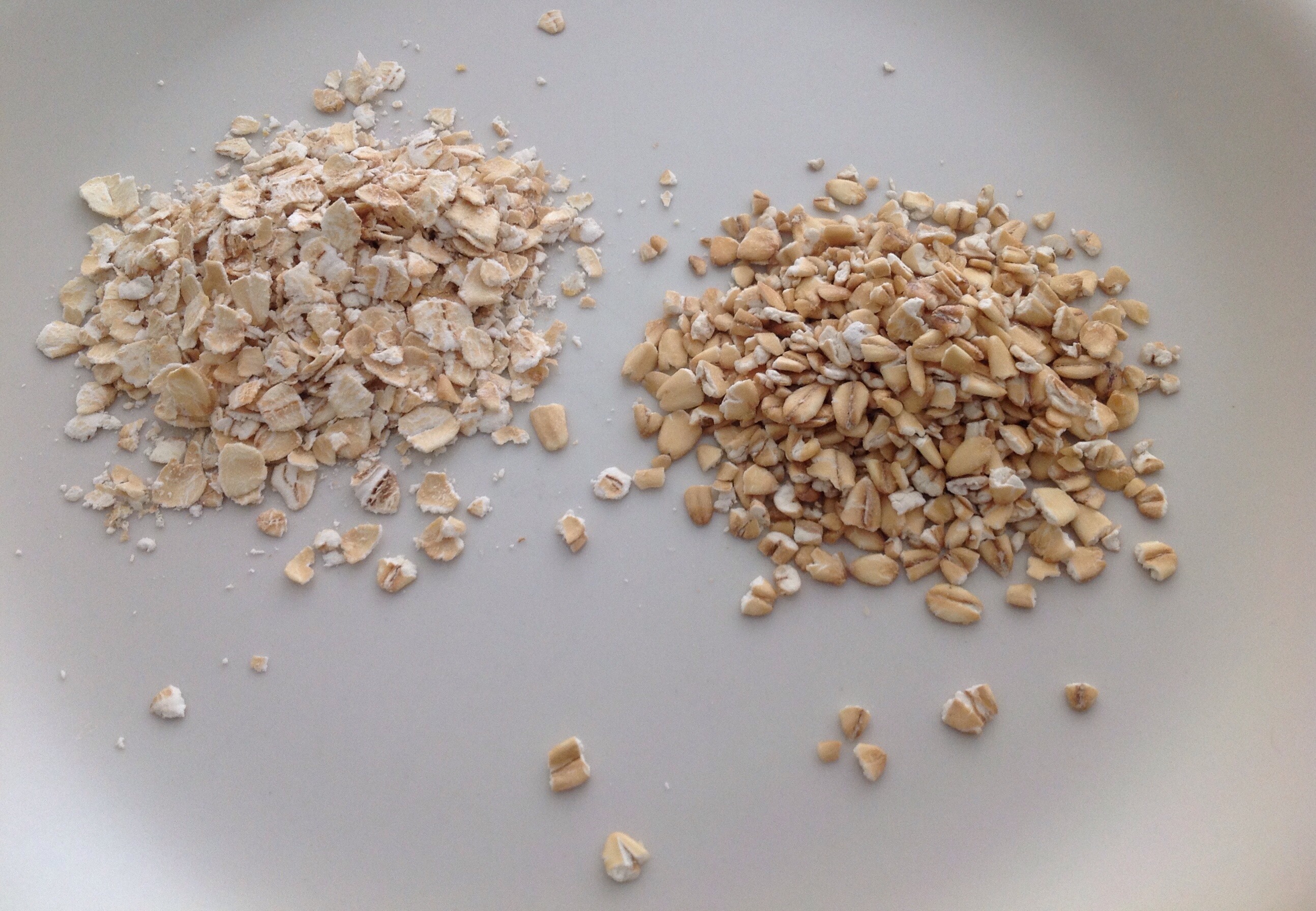 I've always liked oats for breakfast, and I was intrigued to find something in the US that I hadn't come across before in my life: steel-cut oats.
They're marketed here along the lines of "the real Scottish oatmeal", yet it's not a term used by the Scottish as far as I know. So I went forth and did some research on oats in all forms, shapes and sizes.
Oatmeal Varieties
In the US we have three kinds of oats:
quick-cook oats (small rolled, much like the Oat-so-simple variety)
old-fashioned oats (rolled too, but much larger, these take longer to soak)
steel-cut oats (whole oats cut into pieces, obviously by steel blades)
According to one of those Wikipedia articles with "issues", steel-cut oats are also known as pinhead oats in the UK – although I don't recall this product in the oat isle at Sainsbury's.
In the picture above you can see the difference between quick cook oats on the left and steel-cut oats on the right. The latter take a lot longer to soak up any liquid and are great if you don't want your breakfast to get soggy because it takes you a long time to eat it (this happens rather quick with the rolled oats).
Steel-cut oats taste exactly the same as rolled oats but they have a much nuttier texture with more bite to it. I personally like to eat oats (steel-cut or otherwise) with cold milk and a bit of sugar, and perhaps with a selection of dried fruit and nuts – that's what we do in Germany, where it's not common to eat oats warmed up.
My wife on the other hand enjoys oats warmed up in the microwave, either cooked with milk or occasionally water (as porridge).
Steel-cut oats are offered at places like Panera Bread as part of the breakfast menu here in the US, also warmed up.
How to cook them
According to Bob's Red Mill, all you need to cook steel-cut oats to perfection is
3 cups of water (700 ml)
1/4 tablespoon of salt (4g, or a couple of pinches)
1 cup of steel-cut oats (240g)
Bring it all to a boil, simmer for 10-20 minutes and enjoy. Makes 2-3 filling portions.
Bob should know how to do this, because he travelled to Scotland and won first prize at an oat competition, as it says on the packet of steel-cut oats we bought from him last week.
Check out the full recipe here.