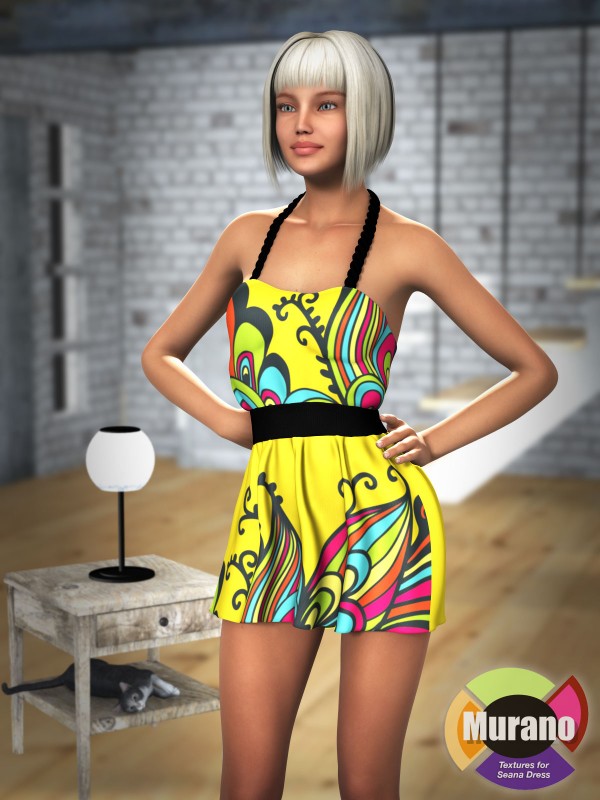 Inspired by our Bayside Bikini Textures, Julia has been busy last week and made some textures for the beautiful Seana Dress by Nikisatez. It is with great pleasure that I give you our second ever Rednerosity product: Murano Textures for Seana Dress!
The dress fits all Genesis 2 Female characters, such as Victoria 6, Stephanie 6, Aiko 6 and all the other Generation 6 figures. Take'em out for a stroll this summer with a pretty dress and 8 new additional textures from us 🙂
This slideshow requires JavaScript.
Installation
The product comes as a ZIP archive. Simply unzip it into your main runtime / content library folder.
On Windows this is slightly easier because files will be copied and merged into existing folders. On Mac, hold the OPTION key while dragging the unzipped folder over, otherwise OS X will replace existing folders rather than merge them.
Note that in Poser, you can also use the integrated Content Installer: head over to the Content Tab, select Install from ZIP Archive and select the package you've downloaded from Renderosity. Select your desired runtime and all your files will magically end up in the right places.

How to use Murano Textures
The Seana Dress needs to be installed for this to work. To use the texture set, load a figure and fit the dress, then select any of the materials.
In DAZ Studio, head over to the Content Library and navigate to People – Genesis 2 Female – Clothing – versluis – Murano Textures. Or search. Sadly I haven't worked out how to provide shareable Smart Content data for these products yet – sorry.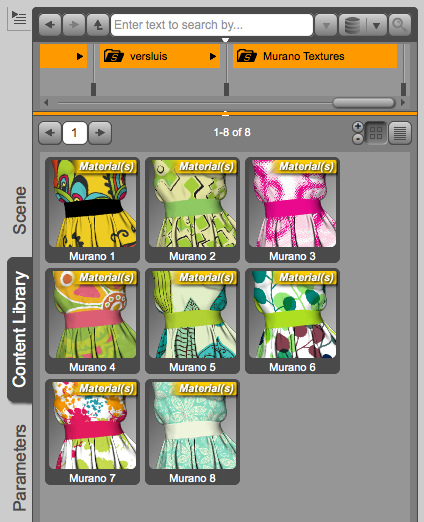 In Poser, head over to the Materials Tab in your Library Palette (the little painter's palette icon next to the camera icon) and select Murano Textures.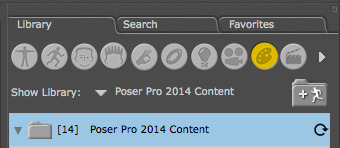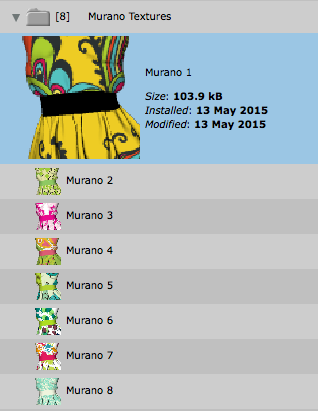 Help! I can't find my runtime folder!
In DAZ Studio this is often called "My DAZ 3D Library", found under Users – Shared. To find the exact location, head over to Preferences – Content Library – Content Directory Manager (at the bottom). Open DAZ Studio Formats using the little disclosure triangle and see your path.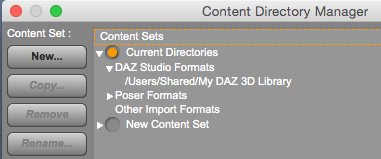 In Poser this is a little more difficult, but not impossible:
On Mac, open Applications – (your Poser version) – Runtime – prefs – Default Poser Prefs. It's simple text file which will contain the location of your runtime.
On Windows, the file is located in Program Files – Smith Micro – (your Poser version) – Runtime – prefs – Default Poser Prefs.
If you have any further questions, please leave a comment below, or send me a PM on Renderosity.
As always, render and enjoy!