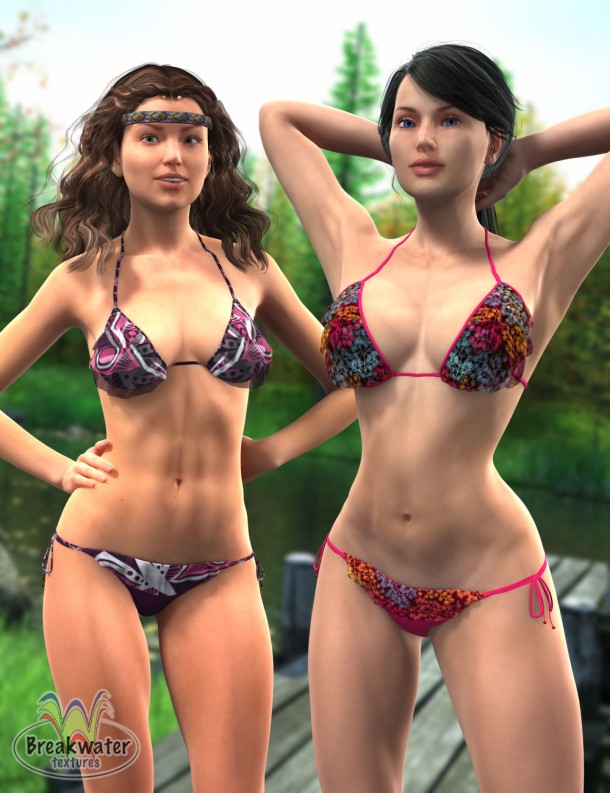 Summer Time means Bikini Time – unless you live in Miami Beach, where it's Bikini Time all the time. May I present with pleasure a brand new texture set from Team V:
Breakwater Textures adds 10 new Material Presets for the beautiful Frilly Triangle Bikini by Nikisatez. Take your Genesis 2 ladies out for a dip in the lake or a stroll at the beach and give the Frilly Triangle Bikini a whole new spin (watch out for little green monsters though).
The set is now available from Hivewire3D.
This slideshow requires JavaScript.
All the above were rendered in DAZ Studio, but separate Poser Material Presets have been carefully crafted from scratch. The backdrop was made in Carrara using HowieFarke's beautiful Secret Lake scene, and the little green critter is another 3D Universe classic called "Monsters in my Cupboard" (both available from DAZ).
Our models are Victoria 6 (left) and Lilith (right, and in single shots), featuring textures designed by my wife Julia. Right on!
Let's see how to use those Breakwater Textures.
Installation
The product comes as two ZIP archives, one for DAZ Studio and one for Poser. Simply unzip them into your main runtime or content library folder respectively.
On Windows this is slightly easier because files will be copied and merged into existing folders. On Mac, hold the OPTION key while dragging the unzipped folder over, otherwise OS X will replace existing folders rather than merge them.
Note that in Poser, you can also use the integrated Content Installer: head over to the Content Tab, select Install from ZIP Archive and select the package you've downloaded from Renderosity. Select your desired runtime and all your files will magically end up in the right places.

How to use Breakwater Textures
The Frilly Triangle Bikini needs to be installed for this to work. To use our texture set, load a figure and fit the top and the bottom. Now select each item and apply any of the materials, either by double-clicking or by dragging them onto the respective items. Here's how to find those Material Presets:
In DAZ Studio, head over to the Content Library and navigate to People – Genesis 2 Female – Clothing – Frilly Triangle Bikini – Breakwater Textures. Or use the handy search option. No support for Smart Content at the moment – sorry.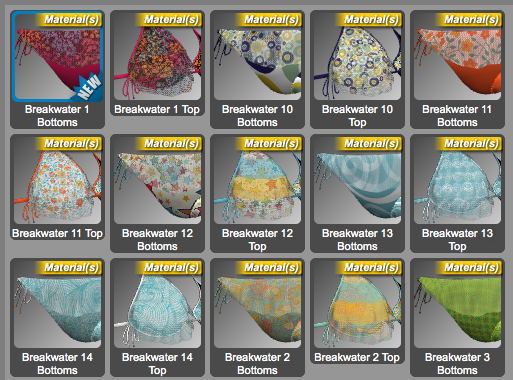 In Poser, head over to the Materials Tab in your Library Palette (the little painter's palette icon next to the camera icon) and select  Genesis 2 Female – Clothing – Frilly Triangle Bikini – Breakwater Textures. Or you can use the search option here too.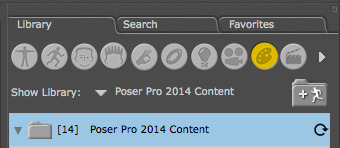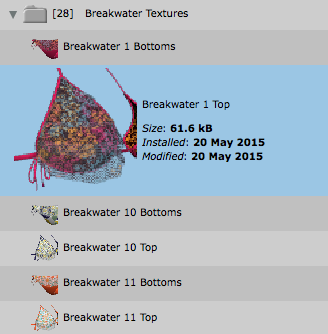 Help! I can't find my runtime folder!
In DAZ Studio this is often called "My DAZ 3D Library", found under Users – Shared. To find the exact location, head over to Preferences – Content Library – Content Directory Manager (at the bottom). Open DAZ Studio Formats using the little disclosure triangle and see your path.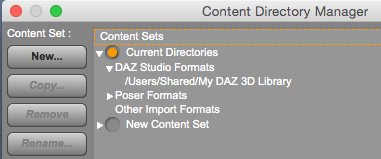 In Poser this is a little more difficult, but not impossible:
On Mac, open Applications – (your Poser version) – Runtime – prefs – Default Poser Prefs. It's simple text file which will contain the location of your runtime.
On Windows, the file is located in Program Files – Smith Micro – (your Poser version) – Runtime – prefs – Default Poser Prefs.
If you have any further questions, please leave a comment below, or send a support request to the lovely people from Hivewire3D.
As always, render and enjoy!