To draw with symmetry, we can create a symmetrical ruler and start drawing with any brush we like. When we switch over to the eraser tool however, only one part of our line is erased. In other words, it won't obey symmetry by default.
It's relatively easy to make that happen, albeit so unintuitive that you won't likely come across it even when you look really hard. I've only learnt about this option and thought I'd share it with you.
Select the eraser tool and head over to its Tool Property window. Click the small wrench icon and find the Correction section. There's a tickbox here that says Enable Snapping. It's off by default. Enable it.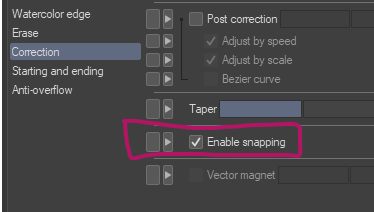 Now your eraser tool will obey symmetry! If you ever want to disable this feature, just disable that snapping tick box and you're back to non-symmetrical erasing. I would have never in a million years thought to look at this option! Kudos to Melinda from Mintoon Comis, who shared this tip in a YouTube video.