I've been converting hundreds of small props for use in DAZ Studio. To speed-up my workflow, I thought it would be wise to investigate more efficient methods in the process. One such effort is to press a shortcut key rather than navigating to File – Save As – Support Asset – Figure/Prop Asset every time. Here's how I did it:
head over to Window – Workspace – Customize (or hit F3)
under Actions find the Save Filters secion
find the desired action (in my case Figure/Prop Asset)
right-click this entry and change the keyboard shortcut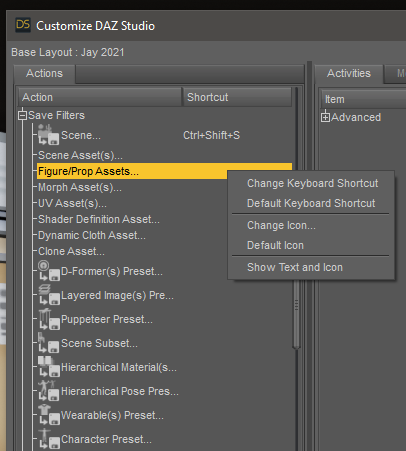 You'll be prompted to press a desired combination. For speed and efficiency I use F2, as I'm used to pressing it from Photoshop exports. It's already in use, but that's OK – I'll never use it for whatever it was already in use for.
Now hit Apply and Accept. That's it!