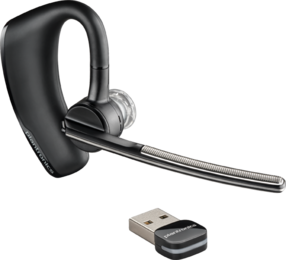 A few months ago I bought a new Bluetooth headset to replace my trusty old Voyager Pro+. It was still working but people at the other end were complaining that my voice would cut out regularly even though I could hear them fine.
Besides, my old headset didn't want to work well with my Mac. That's because Mac's have a problem connecting Bluetooth headsets in general – so it wasn't the headset's fault. I wanted one that also works as an audio input device so I can record screencasts for many of my web hosting clients.
After a bit of research I came across another Plantronics model, the Voyager Legend UC. This particular version comes with a small USB dongle, so it can be used as a Bluetooth headset AND wireless USB headset.
Since February this worked great with my iPhone and iPad, but I never got that elusive USB function to work. Until today when I had a technological breakthrough!
I thought I'd better write this down before I forget…