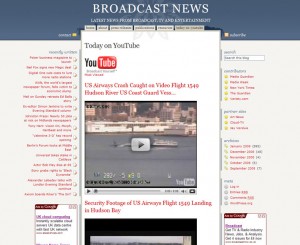 Still going strong, now with added JOBS section and Google Trends (find out what the world is googling for). It's my project to help the Broadcast Indusry keep up with the latest news.
The site features the latest industry news, press releases, and most watched YouTube videos.
I've been in touch with Grapevine Jobs and TVZ to syndicate more broadcast related jobs. Let's see if I can get some RSS feeds from them. Broadcast Freelancer are re-designing their site and have kindly offered custom feeds for ours, and we're all looking forward to the new layout and functionality. Big thanks to Wayne at Broadcast Freelancer!
In addition, I'm very happy to announce our new New Zealand correspondent for the site: Justin Loza. He was kind enough to pass on some freelance job offers in the past, and he's agreed to post every new job he finds directly onto the site. Thanks, Justin! Keep'em coming!
If YOU have any broadcast related news that isn't already in any of the magazines, drop me a line – or become an editor on the site!
Visit www.broadcast-news.co.uk to see it all in action, or become a Fan of Broadcast News on Facebook.
🙂