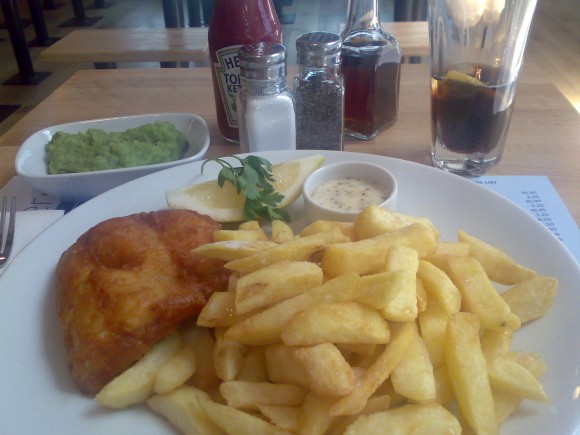 This is what Camden needed all along: a good chippie!
Although on the pricey side, it's on par with venues like The Diner & Co – and definitely worth a visit. Fresh fish, grilled or fried in batter, just like in your favourite chippe down the road – minus the greasiness.
Choose from cod, haddock, plaice, skate, even halibut and dover sole. All comes with excellent chips (again, not greasy) and mushy peas. Very filling, and very nice.
Check it out on Hawley Crescent, opposite the Open University.
The only trouble here is the price… At £12 even for a take-away, aren't we keeping a lot of customers out? Add to that £2 for a non-refill drink, and you start smelling the Camden Rip-Off. Even though the quality is excellent, what good is that if nobody can afford it? We've seen too manu venues close down in that building over the last decade.
I keep thinking that this would be a great place for some of my Beach Huts, since they haven't got any wall decoration just yet.
Verdict: 17 Thumbs Up. Go check it out!
Edit 17/08/09:
Jamie just brought to my attention that the prices have changed. Maybe patrons have complained, or visitor numbers have been less than expected? Time for a re-visit methinks!