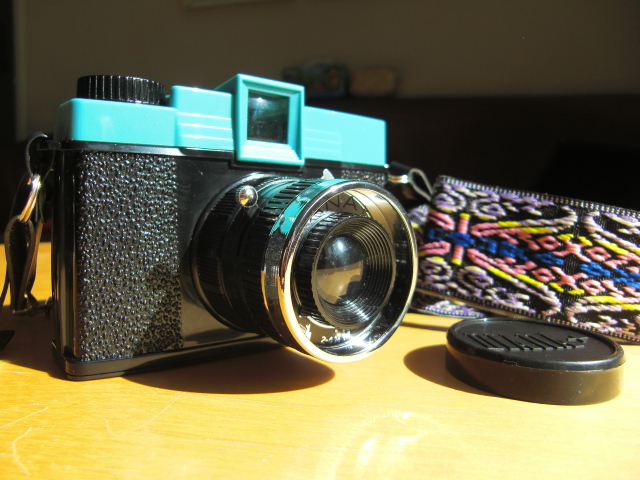 One of the super funky features Lomography have introduced in their Diana+ is the Endless Panorama gate. It makes it possible for you to shoot square pictures with no overlap and minimal space in between.
Now that could DYNAMITE!
I grabbed a couple of rolls of Fuji RMS and made my way over to Camden on a sunny lunch hour. We were taping the big finale of Britain's Biggest Loser that day, which inspired me to have a salad from Pret, which happens to be just next to Camden Lock.
It was very sunny outside, but not blazing. So I've pushed the RMS to 400 ASA and used the largest aperture Diana had to offer. Let's have a look:

These results though speak for themselves. Endless Panorama makes your shots look like they come from the Supersampler, another one of my plastic favourites. The lack of overlaps has its advantages, and I absolutely love it.
I like the overall look of the Diana lens too, and the fact that the back doesn't threaten to fall off all the time. There are plenty of accessories to keep your shots interesting and keep you playing for years. I like Diana!
However, for what I want to do for the upcoming Miami Beach Huts shoot, I really want the individual shots to blend together – like Pink Holga does so beautifully. I'm sure we'll find another great application for Diana+ and her super gate very soon.

Diana is still in the race though – and most certainly has secured her spot in the suitcase already. It won't be my main camera for the project, but I wouldn't want to be caught without her.
[nggallery id=17]
RUNNER UP:
Diana+ and her Endless Panorama Gate
OVERALL WINNER:
we'll find out soon…