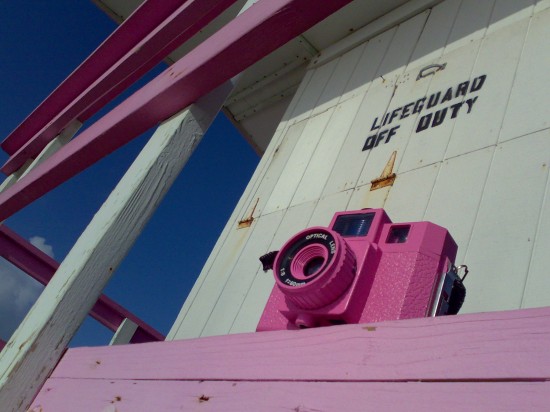 To say it in the words of the deceased King of Pop: THIS IS IT!
Ahead of schedule, we've finished the entire run of Lifeguard Towers on Miami Beach today, from South Pointe to Bal Harbour.
We've covered the longest stretch today so far, after yet another beautiful 5am start. Sunrise over the ocean is a truly magnificent view. We took the S bus from our hotel on 17th street up to 93rd and started walking all the way down to 53rd – that's 40 blocks in blazing sunshine. Think I caught a minor bout of sunstroke, despite my new Panama Jack hat, matching the khaki shorts, shirt and crocs. That's officially my favourite shooter outfit.
We also found a picture book and plenty of postcards by local photographer Susan Russell on the Beach Huts, which explains about past and present designs. The book doesn't quite contain all, and states (like several other sources we found) that Dade County only man the Lifeguard Towers up to 85th street. Google Maps however clearly shows several other Beach Huts further up from here. One of them (at 93rd street) we're including in our collection – but the big question is: where do we go from here?
All our beach starlets further up north are spread out more, 10 blocks and more, until they get more dense and plentiful again towards Hollywood. Without a vehicle of some sorts, it'll be very difficult to cover them all. But then, we've got another week here in paradise, why not make the most of it.
My Canon 1Ds is holding up brilliantly, as ever – and so are the rest of the fleet. Julia's 400D (and Julia herself may I add) is working like a horse for close-ups and safety shots, and Pink Holga is with me most days for some whaky otherwordly accompaniment. See her tone in tone at one of the Beach Huts from this morning's run.
It's safe to say we need a rest, and as I type, we can't bear to walk again today, especially not on soft sand. However, Johnny Rocket on 7th and Ocean Drive have some amazing hamburgers, and the South Beach Local is only 25c… Watch this space!