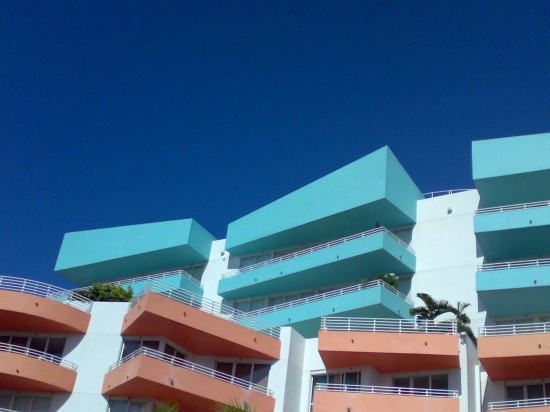 Art Deco is as funky as it comes down here, up and down the beach. We had to change hotels today and moved from the magnificent Richmond Hotel on 17th street further up north to the Circa 39 on 39th street. It's a long story, and I won't bore you with the details…
With all beach huts in the can, it was time for a lie in (until 7am). Hence we've taken a slow approach to today, and to be honest, I really don't like that – here or at home. The older I get, and the more focus I put on my artistic projects, the more I realise that "doing nothing" and "not being creative" is a very uncomfortable experience for me. I feel much better when I pick up the camera and explore a new series, write an article, build a website, play with 3D animation to create an image, anythin really…. but not nothing.
That's why I've taken five rolls of expired 220 Portra and my over-modded black Holga out to breakfast this morning and started work on a new series tentatively entitled "Palm", or maybe "Holgapalm". It's super boring pictures of (you've guessed it) palm trees, often against a blue sky, all taken with Holga. You never know exactly where you are on 220 film with her, so the results might be funky.
But that's not all. We spot all kinds of interesting things when we're out and about, and so I won't forget them, this is what I think is currently a good idea (by the time you're reading this, I might have changed my mind to "that's ridiculous"):
Fashion Victims – still going strong with plenty of contenders coming
Sidewalk Secrets – several random spraypainted writings catch my eye all over the shop here…
Holgapalm – as explained above
Street Corners – this is very beta at the moment, but the concept is that I sit opposite a street corner with a coffee and take basically 12 identical pictures, and the difference is a car passing, some people arguing, that sort of thing. I could even do this on my mobile on automatic, hell whatever. Holga of course is my favourite choice 😉
Holga does Key West – coming tomorrow, when we're doing a spontaneous day trip to Key West. Nice!
Golden Half does Black and White – should be interesting, and a great way to take pictures when the sun isn't out.
Clouds – I keep forgetting the amazing tropical cloud formations here, just a friendly reminder to myself
Art Deco Rama – as the name suggests, Art Deco Panoramas, Diana style
Next stop: Key West, with Julia, Holga and Golden Half.