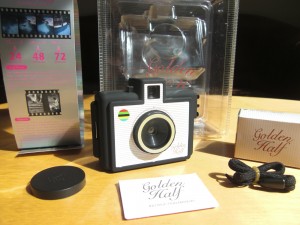 The GOLDEN HALF is a 35mm half-format plastic camera. I discovered it recently while browsing through some alternative camera sites, and since it takes odd 18x24mm pictures (that's two in the space of a "normal" 24x36mm negative), I decided I had to have it.
After 4 weeks and several rolls of film, here's my two cents.
I discovered this camera at the London Photographer's Gallery, experts and stockists for plenty of Holga & Co schnick-schnack. At £35 not bad for Central London prices (hey, it even comes with a film in the box).
History
Rumour has it that the Golden Half was produced for a project by/for Ina Babylon and a book called "Life as a Golden Half". I'm quoting from memory here, as I've not seen a copy of this book or found anything about this project. The name Ina Babylon may or may not refer to an actual person, it certainly is associated with the Superheadz Website, aka the makers of this rubberized pocket gadget. The entire site is in Japanese, a language fascinating yet very much a mystery to me.[singlepic id=436 w=320 h=240 float=right]
Luckily though, the manual is in English and even funny at times.
In a nutshell it explains the features of the camera and it all comes in a shiny plastic box, stating that you can take twice the amount of ordinary 35mm pictures (48 on a 24 roll, 72 on a 36 roll – you get the picture). It achieves this by taking a fairly small picture on a piece of film, comparable to that of 35mm motion picture cameras.
This idea isn't new, and in fact goes way back. Had it not been for the ultimate source of all knowledge Paul Weston, I'd never have known. Apparently, Olympus made an entire SLR system around half format called the Pen F series. Very small cameras for the time (we're talking the late 60ies here), and a whole arsenal of lenses was available. Paul even owned such a camera and says it took cracking pictures – until someone stole it from him in a changing room in Australia.
[singlepic id=437 w=320 h=240 float=right]
The main oddity of half-frame or half-format is that while holding the camera landscape, you're actually taking a portrait picture, and vice versa. It's like using the 645 gate with a Holga. It's odd, but you get used to it quickly.
The other side effect of half-format of course is the image quality.
Paul remembers that for 6×4″ prints you don't see a difference, but of course if you go bigger than that, grain starts becoming very visible. That's not necessarily a bad thing; I for one am immediately thinking of funky black and white effects and overdeveloped HP5 film for an extra scoop of spookiness (see examples).
What's in the Box
The camera comes in a choice of black or blue. Mine is black with a rubberised finish – like some versions of the Lomography Sumpersampler.
1x Golden Half camera
1x hand strap
1x 400 ASA Kodak film (in a matching Golden Half box)
1x Lens Cap
1x tiny Manual, about the size of a 35mm film box. Cute!
There's an inscription on the back, explaining the basic concept. It finishes with "So throw away your book and why don't you go out". I love it already!
Features
The Golden Half features a very wide lens, 22mm as the manual states. That's probably the actual focal length of the lens, which means at a smaller frame size, this would appear even wider. A quick glance through the viewfinder confirms this – without fisheye distortion, you can capture A LOT at a time, making this an ideal tool of candid street photography. Cartier-Bresson would have loved it. Be careful though that you don't go up too close, minimum focusing distance is 1.5 meters (60 inches) according to the manual. In reality, I've not had anything out of focus though.