Here's what else we got for our £99 ($127) plus postage:
1x Blackbird Fly TLR camera (available with a front plate in various colours like black, blue, orange, pink, yellow)
1x display case
1x User Manual in Japanese and English
1x lens cap, covering both lenses
1x strap to attach that lens cap to the body (it's tough to find this information, so it's a good thing I told you about it)
1x neck strap (it's rubbish though – only use in emergencies)
What's under The Hood?
The Blackbird Fly is a clunky piece of plastic, measuring 2.5" x 2.5" x 5" (7x7x14cm) – almost the size of two Rubik's Cubes put together. There's a small switch at the bottom which opens it up lengthwise, with a separate film compartment on the inside. It's unlike anything I've ever seen in a plastic camera!
Overall it has a very sturdy feel to it. I never got the impression it would break, it's certainly build to last.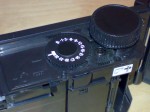 Before we put a film in, let's talk about the manual film counter… it doesn't know when you put a new roll in, like other 35mm cameras. You have to align the white line with the black one before you start a new roll. Let's do that first, shall we? In case you forget, you can't do it afterwards… you have been warned!
Next comes the fiddly bit: getting a new roll ready for action.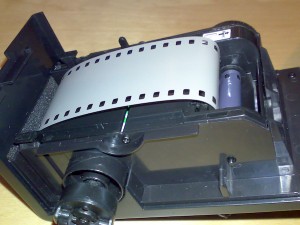 It takes a few times to get this right, so don't lose your patience here. The film is wound out of its own compartment, over the length of the camera, then over a sprocket onto the take-up spool. It'll take about 4 full frames to do this. It's all very well explained in the manual.
Once the film is in, pop in the gate of your choice, close the camera and get ready to take some pictures.
The Outside
The shutter button is located next to the bottom lens, a small metal lever that makes a gratifying "clunk-ping" noise when you press it. You can adjust the focus on either lens (they're interlocked by sprockets), and you can see your current focus value on the top lens.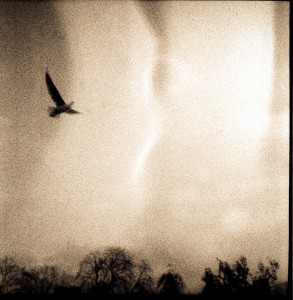 Like other cameras of this calibre, you have to guestimate the distance of your subjects. It works pretty well though, but takes getting used to because you can turn the lenses almost an entire 360 degrees (from 0.8m to infinity).
In the package you get a neck strap, which considering the weight of the Blackbird Fly (210g without a film) feels a bit thin to me. I recommend using one though, but see if you can find a wider one. I buy mine from Geoff's Camera's on eBay at unbeatable value for money.
On the right hand side, you've got your film advance knob, underneath which you can see the film counter. Hard to believe that you've just seen this in a different place, isn't it? On the left hand side, you've got the flash hot shoe and the rewind crank (handily stashed away in a little hole, even though you may have to convince it at times to stay there).
While we're on the subject, there's also a button you have to hold down to rewind the film on this side. I recommend doing this with the help of something you can press the button with: a leaf helped me out last time, but a screwdriver or pen will do fine too. Doing this with your thumb only (which I believe was the inventor's idea) leaves a sharp pain and a red ring.
I've already mentioned the pop-up viewfinder, and I bet you'll get as much pleasure out of opening it as I do. It's made up of four spring loaded flaps that make a great noise when they spring into position. Take some time to familiarise yourself with framing up a picture – it's an experience!
Let's see some pictures
I've shot a variety of pictures in the following galleries, a mixture of all three formats.