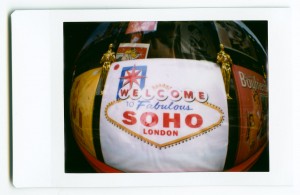 We had the most fantastic time on Tuesday at the Lomo Lunch Workshop about the Diana Instant Back. For only £8 per person, this is a bargain considering you get
to use and test a Diana with Instax Back for the whole afternoon
tips and tricks on how to use it
a free pack of Instax film
30% off Instax Film for the day
all your questions answered and more
I bought this fantastic gadget for a whopping £70 a few weeks ago and was a bit unsure what to expect. Instant pictures a la Polaroid have always had a fascination with everybody who's into photography, and Fuji is now the only manufacturer of such products (not yet counting The Impossible Project).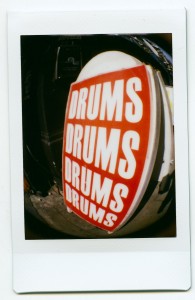 I'll give you a full review of the back another time – there's a lot that can be said about it. If you are in town during April you should pop down to see the Lomography Gallery Store and check out the Diana World Tour downstairs. It's an exhibition featuring 100 vintage Diana cameras and clones formerly in the collector's hands of Allan Detrich.
The workshop itself consisted of a brief introduction to instant photography, the do's and don'ts, and then they let you walk away and test this puppie out. If you have questions you can pop back anytime and even buy some film for 30% off the market price.
If ever I had my doubts about Lomography or their often hefty pricing structure, this workshop was fabulous – thanks to Adam and his crew! We're doing another one on Light Leaks on Saturday – I can't wait!
Let's see some pictures
I brought my own Diana clone "El Toro", the Instant Back and the 22mm Fisheye Lens. I mainly shot with this winning combination, except for a few pinholes and some with the standard 70mm lens. It's highly addictive, especially when those shots come out great in the bright outdoor sunshine.
[nggallery id=44]
Julia had a borrowed camera with the 110mm Telephoto Lens. Adam said this is only for "Advanced Lomographers" and gives very different pictures. It's harder to predict focus and framing but still a lot of fun 🙂 There are a few that were shot with the 55mm Wide Angle Lens here too:
[nggallery id=43]
Instax is an 800 ISO film, however due to a correction lens inside the Diana it becomes 400 ISO material. Exposure works best just like it says on the lens barrel:
sunny in bright sunshine
cloudy for shadier side streets outdoors
and the sunny/cloudy setting for anything in between
I can imagine that the sunny setting in much brighter summer conditions may not be small enough so let's keep an ND filter in mind should it come to that.
In contrast to that, indoor shots don't come out very well – flash or not, they just look rubbish. I think we already know this phenomenon from Polaroid years. Long exposures work OK, but it it's hit and miss (see the wedding couple above). The Diana Flash likes to burn out faces if you're too close, or isn't strong enough.
Think I need to do more testing on this subject. Good thing that Instax is available on eBay for £4.50 per pack – I've just put an order for 20 in yesterday 😉