The DigitaLiza a scanning mask that lets you scan your negatives and slides including perforations on any common flatbed scanner.
It works really well with those annoying curly negatives and it's much sturdier than those flimsy masks that came with your scanner. I first heard of it when the Spinner 360 came out.
Until now, when I wanted to scan film with sprockets, I had to sello-tape the edges to a a wet mount that came with my scanner (it's a piece of glass really). This often leads to newton rings where the film touches the glass.
Not so with the DigitaLiza. For only £25 I thought I'd check it out.
And I have to tell you: it's one of those things that you didn't know you always needed 😉
So how does it work?
The DigitaLiza consists of three parts:
The Film Holder (opens up)
a Metal Plate (for the bottom)
and a Lid for the top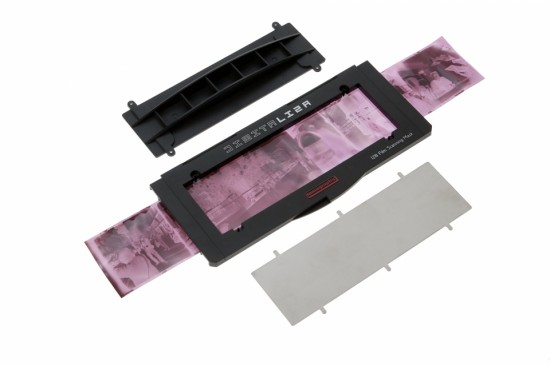 The magic happens via magnets which hold the bottom plate onto the lid while holding it in place. It's simple. It's genius!
You open up the holder, place the metal plate at the bottom, roll out your film and put the lid on top. Then you close the holder, remove the lid and bottom plate and – tada: flat film, ready for scanning.
Please note that you can only fit up to two masks next to each other onto an A4 flatbed scanner – three is a bit too much.
Have a look at Mijonju's demonstration here:
Conclusion
What I really like about it is that you don't have to fiddle with plastic that snaps on or off and constantly threatens to break. What would I do if my Epson Scanner Mask breaks? Can I buy a new one? And how much would that cost?
The DigitaLiza comes in both 35mm and Medium Format, the latter of which I haven't tried yet but I will when my next roll of curly Holga film is ready. I found this gadget to be a valuable tool for scanning workflow at a very reasonable price.
The only drawback is your scanning speed:
When before you could set off 24 pictures and let the scanner do its work, now you're being asked for user intervention after one (or two) film strips. But that's just what happens when you use mad cameras that require you to scan sprockets.
Live with it 😉
[singlepic id=779 w=550 float=none]