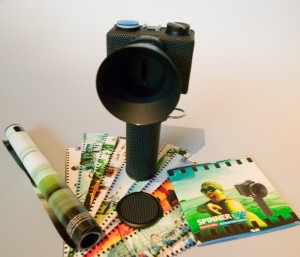 When I first heard about the Lomography Spinner 360, I knew I had to have one. I've been racking my brains on how they've made this marvel of 360 degree photography a reality without this being a "pro camera".
With a rather sharp retail price of £110, this isn't just a throwaway toy camera.  Medium format alternatives are 50 times that price – so we're still getting kind of a good deal here.
I've had this camera for over three months now and I finally found the time to write up all my findings about this new gadget.
Let's have a closer look at it in this article.
What's this camera doing again?
The Spinner 360 is a 35mm camera created by The Lomographic Society. It takes a full 360 degree panoramic photo on one single negative. It spins around its own axis and exposes a 20cm long strip of film, including its perforation. That's the equivalent of nearly 5 ordinairy pictures next to each other.
On a 36 exposure film you can take roughly 8 pictures (give or take).
Please note that you won't be able to get prints from this camera at your local mini lab! You can ask them to develop the film for you, but make sure they don't cut it. You'll have to scan it yourself. Mini labs can only print 24x36mm negatives and yours will be 24x150mm. If you're scanning your pictures at 1200 dpi, you'll roughly end up with an image size of 1500 x 10.000 pixels – so be careful of what size your application can handle.
What's in the box?
1x Lomography Spinner 360 Camera
1x metal Lens Hood (pre-attached to the camera)
1x Lens Cap (only fits if you de-tach the lends hood first)
2x "rubber bands" (they're 5mm thick so the term is a bit misleading)
1x Camera Manual
11x "Contact Prints" of example shots, with explanations on how to create them on the back
1x pack of Silica Gel (always comes in handy)
1x giant poster (ca. 26x100cm, rolled up)
Packaging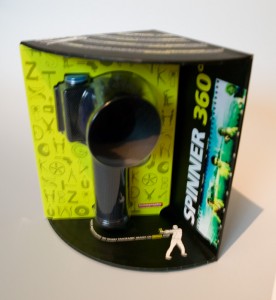 As with many original Lomography products, the mere packaging is amazing! Imagine a cylinder with a diameter of 36cm, 26cm high. Then imagine a quarter wedge cut out of it – that's your box. It's a piece of art all by itself.
I always think of packaging and box art as something very creative, and I love it when it pushes my buttons. This one does – even if you never shoot with the Spinner, the packaging is good enough to get one.
Or maybe I just need to get out more.
The Outside and How to use it
On the whole, you could describe The Spinner as a sturdy, well build camera. It's covered with rubber on the outside with lots of little nobbles on it – so it won't slip out of your hand.The whole contraption is rather heavy (400g without the film).
If you've seen the Lomography Fisheye before, the camera body looks a little bit like it, extented by a big stick on the bottom. This big stick sits at the front-centre of the camera body and turns counter-clockwise to move the film forward.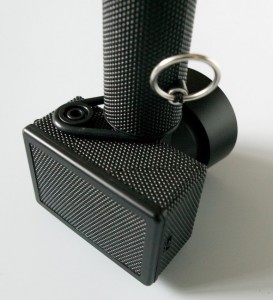 The stick has a thick rubber band at the top which winds on the film. Instead of a "shutter button", you've got a metal ring hanging out of that big grip. Inside the stick is a piece of string with a metal ringattached to it. To take a picture, you hold the stick, pull you the ring and then let go of it. It's fun, try it a few times without a film in it.
On top of the camera we have a "cold shoe" for strobe flashes or constant light sources, a film rewind crank and a sprit level (featuring blue liquid, a water bubble and a dolphin).
Please note that the "cold shoe" is more like a holder, it's not a wired hot shoe like you know from other cameras. Your flash won't fire when you take a picture, unless you set it to manual strobe mode.