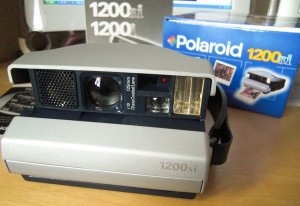 I bought yet another Polaroid camera on eBay: the Polaroid 1200si as part of the HealthCam Kit. It includes the camera, a Light Lock close-up attachment and a funky Polaroid carrying bag.
Camera and accessories are BRAND NEW so naturally I couldn't resist. It's just arrived and I'm very excited about it 😉
The main difference between this camera and my other two Polaroids is the film format: the 1200si uses the wider Image/Spectra format instead of the square 600 pictures.
I vaguely remember when the Spectra format came out, because I was thinking what a huge waste of time I thought it was. Polaroids are square – period. Several decades later I'm thinking differently. As a Newcomer Polaroid addict, still can't explain my fascination with the medium, but I can certainly savour the moment.
How I got it
I was looking for a 1200/Image/Spectra type camera on eBay to complete my collection of Polaroid cameras. It has been said that the 1200 series can take better pictures because better components are being used to make the cameras. We're dealing with actual glass lenses instead of plastic ones here. Sounds very familiar to the Holga series doesn't it?
So I found an auction by bsvmedia, who looked like someone clearing out a GP's practice. I found it when the listing had 8 days to go and watched it immediately. It held at 99p for several days.
When it came to crunch time, I put a timid bid of £27 in thinking maybe I'll get lucky – I knew this Helathcam Kit would be worth a lot more, considering this would probably be my last ever chance to get my hands on a brand new Polaroid camera.
When I looked again, there was only 10 seconds to go and the highest bidder (a new user with zero feedback) put a £77 bid in. I couldn't even think how much I wanted to spend, and before I knew it the auction was over. I was at the bottom of the list somewhere.
I contacted the seller the next day and said that should he have a problem with his buyer, I'd be more than happy to buy this rare find. As fate would have it, his buyer didn't pay so I got really really lucky when he offered it to me.
Was that the same Power at work as with the Golden SX-70 recently? I believe it was!
Superbly packed and at great shipping costs, the item is with me now and I can't wait to try it out. Thanks, Dave 😉
Polaroid 1200si, Serial Number FD7 JX086 VLNB. Made in the UK. Brand New. WOW!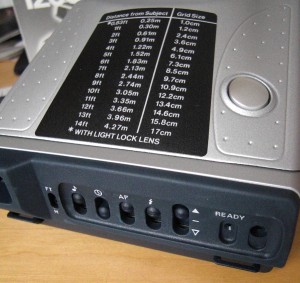 Compared to all other post-1985 Polaroids I came across in my life, this one certainly has a  very professional feel to it. Even though the body is made of plastic, it feels very sturdy and it's a tad heavy.
It features an array of manual controls on the back unlike most other Polaroids so there's plenty of scope to experiment.
Double Exposures
The 1200si is apparently the only original Polaroid Integral Camera that can produce multiple exposures. Whoa! This is thanks to the self timer which does not eject the picture after exposure. You can trick the camera into taking more exposures on the same picture.
I didn't even know this until I found this picture and an explanation by Josh Chen on how to do this. The Impossible Project had exactly 38 of these cameras for sale last year and they also mentioned this super cool feature.
All I need now is some film so I can have a play.
Getting Food for my new Polaroid
eBay seller polavoid has plenty of original Polaroid 1200 film stock available, and I'm excitedly expecting some packs next week.
Impossible are producing PZ600 film which will fit all Spectra/Image/1200 cameras so that's something else I'm looking forward to. Currently only available in black and white, I'm sure once the colour emulsion is worth talking about it'll be available in glorious widescreen too.
Read more about my new toy in my forthcoming full review 😉