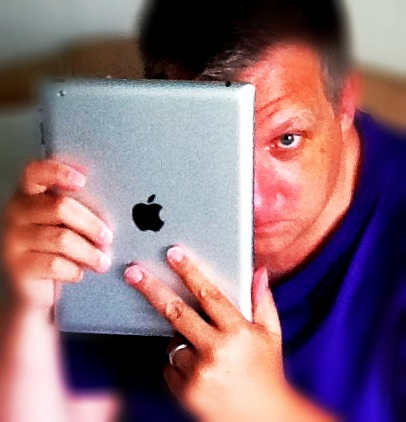 When I first bout my iPad I went for the cheap and cheerful approach: Who needs 3G when you have an unlimited data plan on your phone?
You can use a tethering app to create a WiFi Hotspot everywhere and use your WiFi iPad at much lower cost than shilling out on the extra 3G functionality and a separate data plan.
Those were my thoughts. Within the first week I was already missing the 3G I've come to love from my Kindle: mental freedom, access the web anywhere I am, from a park bench to a train. Still, I had my trusty Nokia N900 phone and the Joiku Hotspot app to make it work in theory.
There are however practical issues I hadn't anticipated like very limited battery life on my phone and much lower connection speeds. Consequently I've upgraded to the 3G version and in hindsight wish I had bought that one in the first place.
In this article I'll show you some tests that compare the connection speed between my tethered connection and the built in 3G connection. The results are surprising!
UPDATE: added tethered iPhone test vs iPad 3G vs Nokia N900 at the end of this post
What we need
I've come to love the speedtest.net website, and I was pleasantly surprised that they have a free iPhone app. Have a look on the app store and check it out. This is essential to make a judgement about how fast we're up and downloading data.
We also need access to the same carrier in the same area – it would be unfair to compare O2 on the iPad with Orange via a tethered mobile phone. I've got a monthly contract with O2 on my Nokia N900 and a pay as you go iPad data plan with O2 as well.
We also need a tethering app – I've decided for the Joiku Hotspot app but there are others on the market. For the N900 it's only available as a premium purchase – but €9 for a secured connection is a negligible investment compared to the money you'd be saving overall. I eagerly bought it so we're testing the premium version, but to be fair we're also testing the free version with Julia's Nokia E72 (which is an S60 series phone). That phone is also on O2 with a monthly contract.
Please note that we did not test the tethered iPhone connectivity as neither of us has an iPhone. However Ray has both iPhone on O2 and WiFi iPad so I'll ask him to report his findings and include them here if he provides them.
Let's get testing
We were out near the Hoover Buiding in West London, at Starvin Marvin's diner to be exact. Over unlimited coffee we started testing there.
First up: N900 tethered (top) versus iPad 3G (bottom):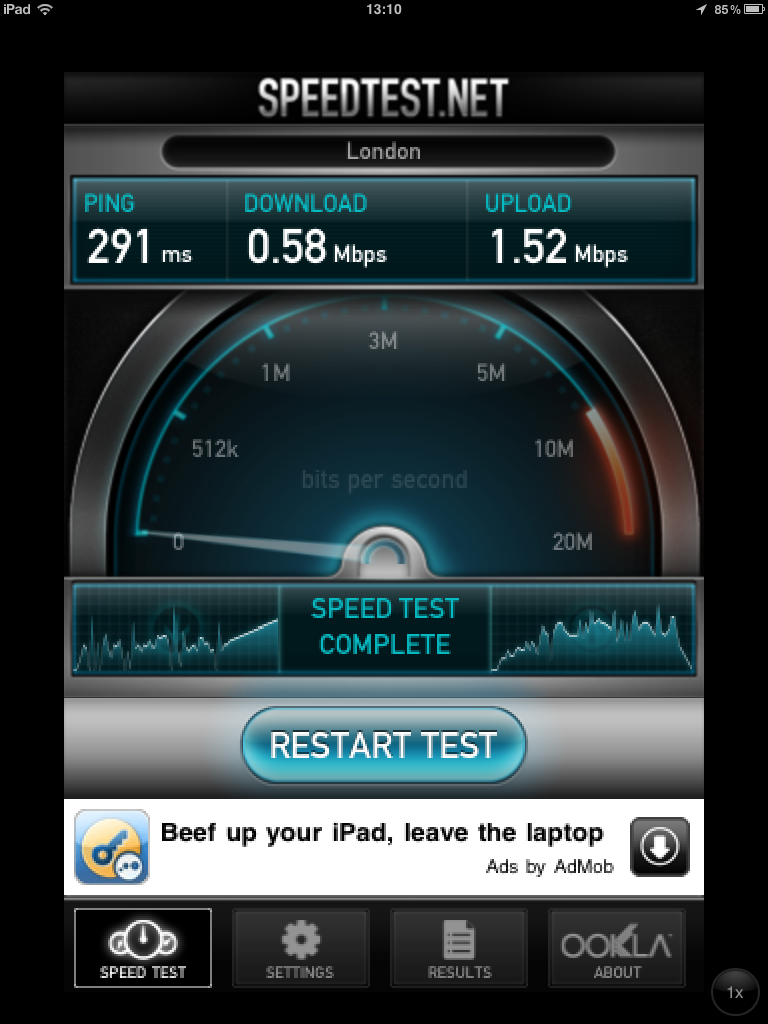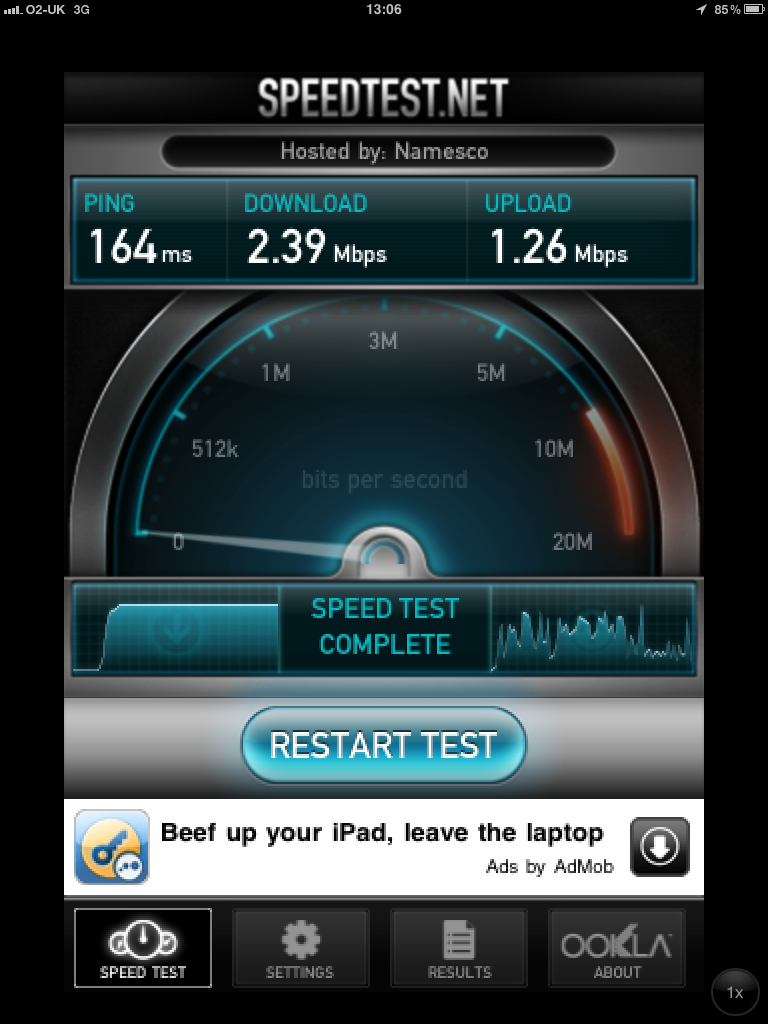 I had expected them to be pretty much exactly the same – but as you can see that's not quite the case: the connection on my phone is a lot slower than the native 3G connection on the iPad. We're talking one fifth of the download speed, with higher upload throughput! I tested this several times to rule out temporary data obstructions but on average the results were the same.
It is unclear if this is due to a data limitation on my phone or due to a cap that O2 put on standard SIMs.
Location, Location
Perhaps it was the location. A few days later we tested the same thing at our home in North London on a Saturday morning.
Again we have the tethered N900 at the top and the native iPad connection at the bottom: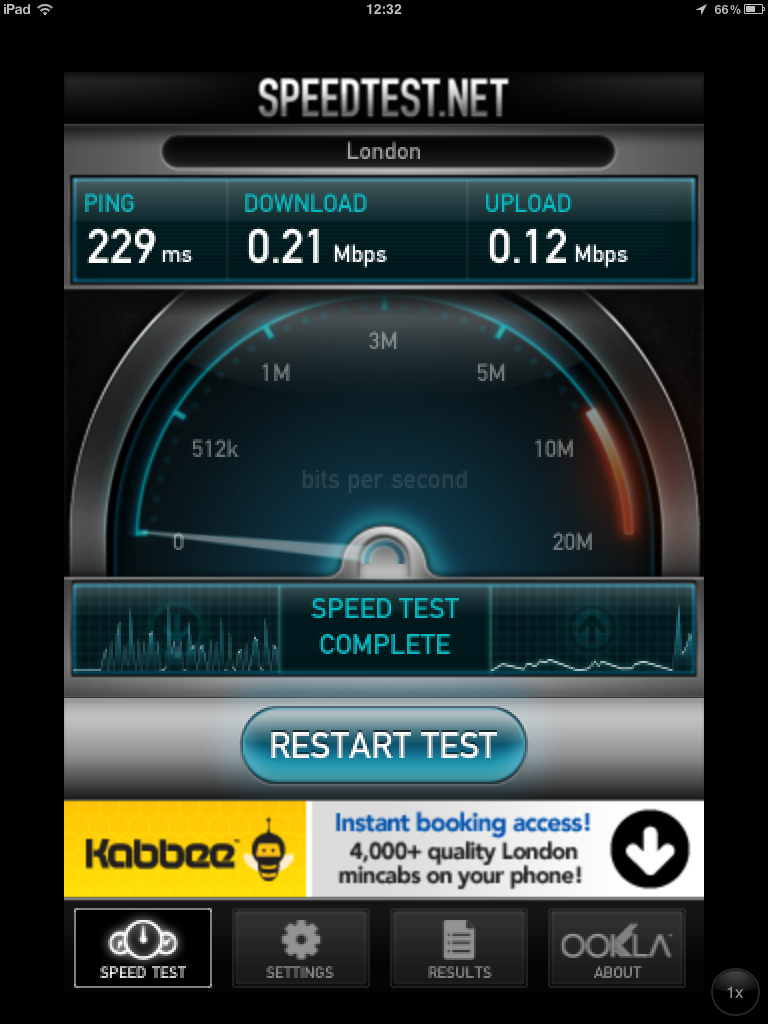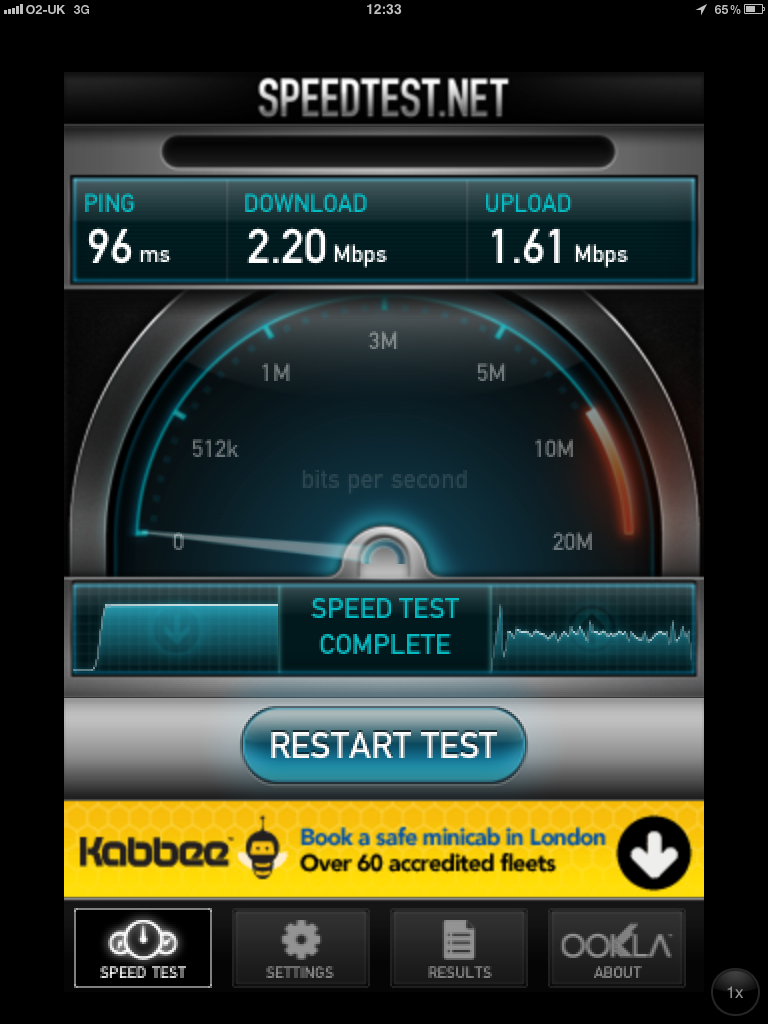 This time the tethered connection was even worse, but the iPad 3G connection was still very good.
Maybe it is my N900, so let's see what Julia's E72 says when we connect it via Joiku Hotspot