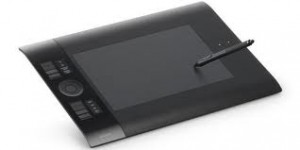 A couple of weeks ago I ordered us some proper Wacom Intuos 4 tablets – a small one and a wireless medium one. It's love at first touch 😉
I've had a first generation Wacom Bamboo before and thought it would come in handy for touch up work in photo retouching and some other pen related activities, and even though it worked I never quite warmed to it. That was in 2008.
Back then I even invested in Manga Studio EX4 which had just come out thinking that my drawing skills would improve when I rtied the two together. Unfortunately the software is so unintuitive and the tablet was so basic that I soon lost interest in further explorations.
With the Intuos 4 that has all changed: it's like drawing on a piece of paper with incredibly accurate feedback. It even recognises the angle of the pen to the tablet and changes the brush size and stroke accordingly. Whoa!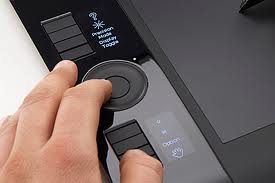 It's got 8 programmable buttons on the side that even show you what's currently on there (6 on the small edition and without the labels). You can program this for each application seperately if you wish which makes it even more versatile.
The wireless option is great and I'm happy to pay the extra £20 to not see another cable hanging off the table, but it's not essential. The small one works just as well and is great for portability, Julia loves it. You can always zoom into detailed areas. Medium works great for me and I wouldn't want to go any larger than that (unless I win the lottery and shill out on the new Cintiq 24).
Photoshop CS 5, Manga Studio EX4 and Anime Studio Pro 8 work really well with it – so does Sketchbook Express and SketchPad. I'm looking forwaard to trying it with Poser Pro 2012 and maybe even Premiere Pro CS 5.5 – who knows how this will change my workflow. As a long time mouse user I never thought how much this could enhance the user experience.
The Intuos 4 comes with one of three free software suites so you can start drawing straight away:
Autodesk Sketchbook Express
Adobe Photoshop Elements 8
Corel SketchPad
You can only pick one per tablet so I decided to go with the latter two. If you're on a Mac, you can get Sketchbook Express from the Mac App Store for free so don't waste your Wacom freebie. The Sketchbook Copic Edition is available for free too for both Mac and PC. You can treat yourself to a download here.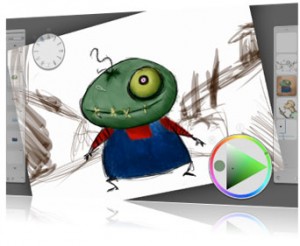 Corel SketchPad deserves a special mention here: it's one of the best doodling tools I've ever seen! Super easy to pick up, highly intuitive and features a selection of really lovely brushes. Where other packages take a lot of getting used to and are rather user-unfriendly (*cough* Photoshop *couch* Manga Studio), SketchPad is a pick up and go suite. Very lightweight yet powerful, worth the freebie with your Wacom purchase if you ask me. Check it out here.
Let me show you some results I've been able to draw with my new toy over the next few weeks. I've never had that much fun drawing, not with a pencil on paper nor any other piece of kit.
I know that the hardware doesn't make me a better artist, but it certainlymakes me want topick up that pen and start doodling a lot. And excitement is what it's all about.
Thanks, Wacom!