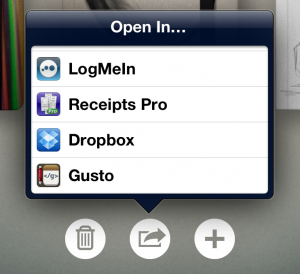 This morning my beloved iPad app Paper by FiftyThree received a long awaited update: they've just added an option to export an entire book as PDF. Hurray! This turns an extremely good doodling app into a solid professional graphics tool.
Now I can share an entire book rather than a single sketch either via email or to any iPad app that supports the "Open In" option. This means that there's no limit on what other apps can receive your work: DropBox, iBooks, EverNote. Rather than Paper dealing with each API, Paper lets the iPad deal with all that techie stuff. Genius!
To use this new feature all you do is this:
select the book you'd like to share from the main screen (make sure it's closed)
touch the sharing button (the rectangle with the arrow sticking out)
choose either Send Email or Send to App
wait a moment while Paper creates your PDF
Send to App brings up list of installed apps that support receiving a PDF
hey presto: see your work in Kindle, iBooks, DropBox, and many others
Apart from the email option you need to install these apps for the sharing process to work. If we stick with the DropBox example, you need to have the DropBox app installed on your device for the option to come up.
You can even import the resulting PDF in Photoshop and enjoy full transparency support. I'll show you how this works in another article step by step.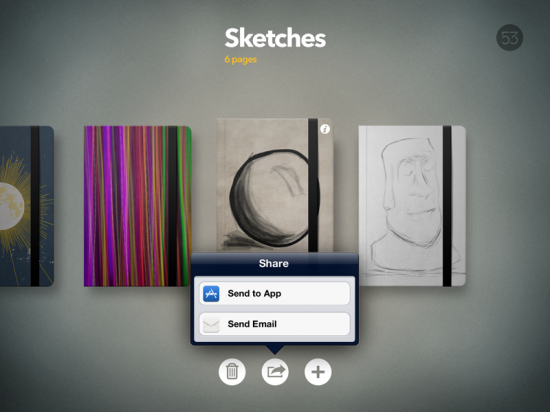 One thing that hasn't been fixed is the option to export an image with transparency to the camera roll. Like before it works but the iPad will pick a random thumbnail for display in the camera roll. According to FiftyThree this is an iOS bug that Apple just aren't fixing. But with proper PDF export at your disposal I don't think there's anything to worry about.
You can try the latest Paper 1.0.23 for free from the Apple App Store. Julia and I love it – upgrading to new brushes in-app is highly recommended!
Check out this video to see what Paper can do for you:
See what people have Made with Paper here.