iOS 7 has a nice feature which allows you to apply digital effects to your pictures taken with the standard camera app. I guess the popularity of apps like Hipstamatic and our desire of wanting images that are not perfect have found their way right into the operating system.
I really like the option, but sometimes I find pictures I've taken and think "darn… I wish I had taken this without that filter". Seemingly there's no way to remove it after the fact.
Thankfully though, iOS applies those effects non-destructively – just like iPhoto applies effects. And with iPhoto, we can remove anything that the Camera App has applied. Let me take you through this.
I'm using iPhoto for Mac 9.5.1 on Mavericks here, but the principle applies to iPhoto for iOS as well. This is a picture in iPhoto with an effect applied, transferred automatically via Photo Stream. Trust me when I say the sky was indeed blue that day: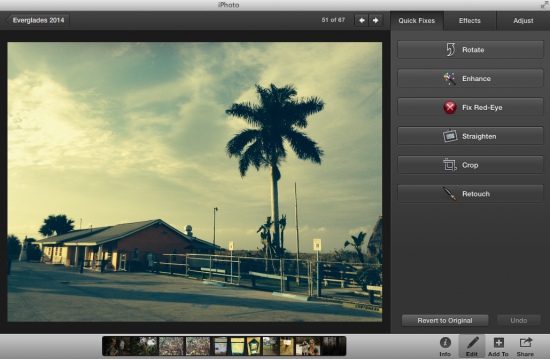 Usually what I do for a quick fix is to enter the Edit Menu and apply Enhance. If a filter from iOS is already applied, then the enhance is added on top of the filter – this doesn't happen when you do it in iPhoto. Sometimes this works great, sometimes it doesn't – as the following example shows: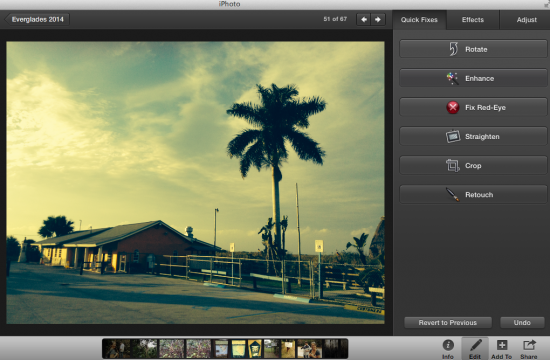 With enhancement the picture actually looks worse. It is at this point that I wish I could remove that iOS effect. And here's how: first we'll hit "revert to previous" or "undo, which will bring us back to the previous step.
Next click "Revert to Original" in the bottom right corner and the picture will be brought back into a state before the filter was applied. It now looks exactly as the iOS Camera App would have taken it without any filter: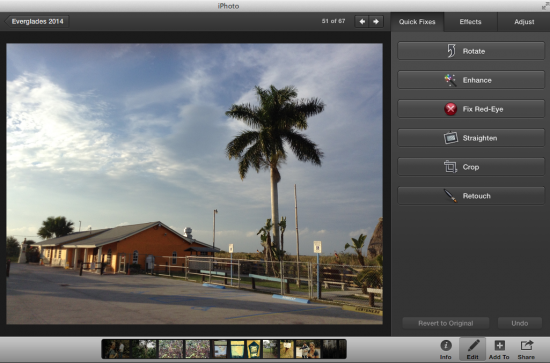 Now you can hit Enhance again if you like and get an enhanced version of the pre-filter picture, or apply anything else you like.
Or just leave it as it is – because sometimes that's not too shabby either.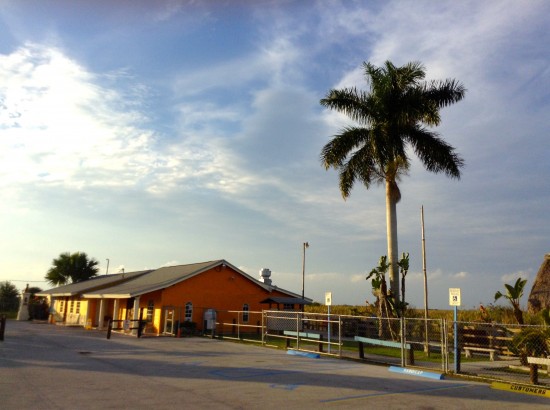 #result