It occurred to me the other day that I now own every single version of Autodesk's SketchBook Pro family that is currently available. They're all a little different, and they're all for different platforms.
At the same time, I hardly ever use SketchBook Pro – but knowing that it's available on every device I work with is a very calming notion. Don't ask me why.
As the above compilation shows, SketchBook Pro's Logo Design underwent a change or two, a trend that the company appears to embrace something like every six months or so. That and the fact that there seem to be more versions than you can shake a stick at make this app a little confusing to the newcomer. Perhaps this writeup can help clear up some of the confusion.
My latest addition was the desktop version for use on my Surface Pro. The asking price was $60 which I thought was ridiculous, considering that the iPad version is available for £2.99 and does pretty much the same thing. Amazon had it on sale for $20 before Christmas so I thought now's the time.
Here's a list of each version, just in case you were wondering. We're discussing Version 6.x for desktop and tablet cousins, around in 2013/2014 at the time of writing. SketchBook will no doubt evolve further, and by the time you read this it may be hopelessly out of date.
SketchBook Pro for Mac (App Store Version)
You'd think all desktop versions are the same, no matter if for Mac or PC. That's correct, with this exception: SketchBook Pro is available as a Mac/PC version on disk and for download, as well as for Mac from the App Store. The difference is that this version
includes iCloud integration
and cannot be upgraded to or from
Both are important points: iCloud makes it possible not only to store your documents in iCloud, but you can also pick them up on your iPad/iPhone, and respectively load sketches saved with your iPad/iPhone.
Consider the scenario of starting something while you're on the go and finishing it on your desktop. This is of course also possible with DropBox & Co and without the App Store version. I remember that this was on sale, and I had a gift voucher, and I thought it may come in handy (he says, almost apologetically).
SketchBook Pro for Mac/PC (CD / Download Version)
Works exactly the same as the above, with the main difference that if you own a previous version of Sketchbook (such as 5) you can upgrade to this version (6.2.4 last time I checked) for a discount. That's not possible with the App Store version.
Plus, if you buy the CD version you can use it on Mac and PC. I'm not sure if the download version allows this.
One small operational difference between this one and the App Store version is that you can step through documents in a folder with the previous/next option. The App Store version doesn't have that feature.
SketchBook Pro for iPad
This one's my favourite, and it keeps getting better. Much like Photoshop, it's an app that lets you be creative, as well as productive. In its most recent version it received DeviantArt integration, which is a social network for artists of all media and disciplines.
I couldn't help but notice the similarities to how FiftyThree's Paper app has integrated their curated Tumblr stream. The idea is great, because you can see what other artists are creating with that software. It's very inspiring.
I like the third party stylus integration too, even though pressure sensitive brush presets are not easily discovered (I'll show you how in a different article).
I've had this since I had my iPad in 2011.  Back then you could buy brush sets in app, but now they're all included for $4.99 / £2.99.
SketchBook Pro for Android
I have a Nook Tablet with Jelly Bean on it. It's a nice way to keep up with what Android is doing. Perhaps one day I'll understand how to develop for the platform (I doubt it though… if you're used to Xcode and you start using Eclipse it's like visiting Eastern Germany in the eighties for the first time – trust me).
I digress… Anyway, I like the Nook Tablet's form factor and thought that having a drawing app on it would rock, so I bought the Android version of SketchBook Pro. Over the last year it has caught up with its iPad cousin and the feature set is now almost identical. For over a year however it was not, and the Android version was a joke compared to the iPad version – for the same price.
SketchBook Pro for Kindle Fire HD
I like the Kindle form factor and thought that it would be great to have my favourite drawing app on it – so I bought SketchBook Pro again! Feature set is identical to the Android version.
SketchBook Mobile for iPhone
The iPhone version doesn't support the full feature set of SketchBook Pro due to limited screen real estate, but it comes close. Less brushes to choose from, but still plenty of layers and the full range of transparency as well as very many Copic colours make this an ideal pocket companion.
I also have this version for my Kindle Fire (non-HD) and on Android too. I know this sounds crazy… but hear me out: SketchBook Pro for Android only runs on Honeycomb or higher. My first foray into Android devices meant I was limited to Gingerbread, and the only Sketchbook iteration available for Gingerbread is SketchBook Mobile. When I got my hands on Ice Cream Sandwich and Jelly Bean I upgraded – that's why I find my self with so many versions of essentially the same drawing app.
SketchBook Express Series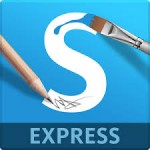 If you're happy to pay $5 for your favourite latte but think that the same price for a drawing app is outrageously overpriced, you can try your hand at the free iterations of SketchBook.
SketchBook Express is available for both iPad and Android and is a lighter version of Pro. It has the same drawing engine with a smaller choice of brushes, limited amount of layers (three I believe at the most), and it's limited in canvas size to the screen size of your device.
SketchBook Express is also available for Windows RT, and if you're running it on Surface Pro an "upgrade" dialogue brings you to the Autodesk site which asks you to "Go Pro" for $59. That's perhaps a tiny bit greedy considering that the other tablet versions are a TETNTH of that price.
Similarly, SketchBook Mobile X is a free version for iPhones and Gingerbreads alike.
Conclusion
I think that about covers the many faces of SketchBook Pro. I like the app because of its very plain interface that does not require a keyboard. It's great for sketching and note taking, very powerful yet very easy to pick up.
I'll tell you more about how to use it with Pogo Connect in another article.
Further Reading