Over the last few months I was considering buying a Mac Mini. I'm currently using my high-spec MacBook Pro 2.8GHz Dual Core i7 on a 27′ Thunderbolt Display, but it's awkward to unplug every time I want to use it as a laptop. The Mac Mini would streamline my desk and add some more power to those 3D apps I'm using.
Or so I thought.
When the refreshed 2014 Mac Mini line was introduced this week I couldn't quite believe my eyes: Appe have made the little guy much slower than his predecessors!
Granted, the graphics card is better, the IO ports are faster – but the Firewire 800 port has been removed – which is not such good news for video editors. And in terms of processing power, all we can get now are Dual Core i5 models which are slower than my current 3yr old laptop. The 2012 models featured Quad Core i7's at 2.3GHz, something I had really looked forward to.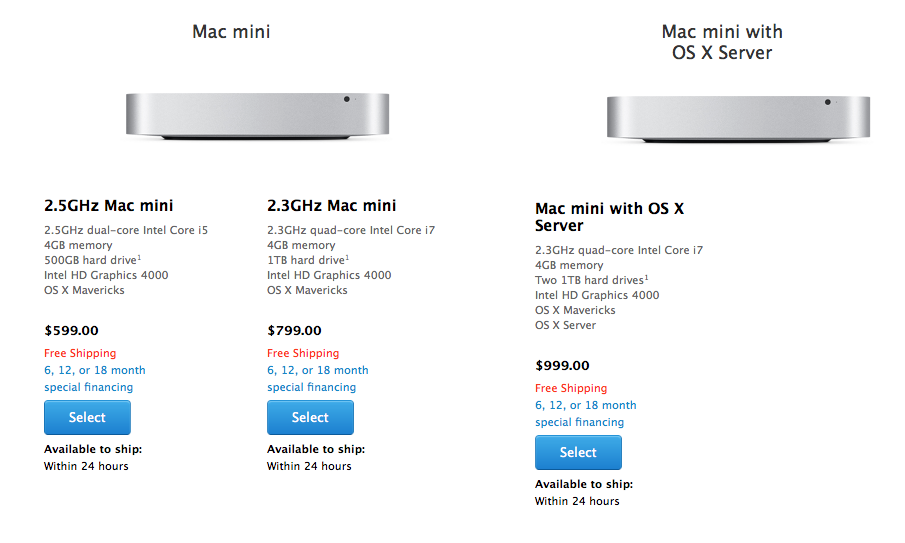 For many buyers the Mac Mini was a cheaper alternative to the overpriced Mac Pro: get the medium model, increase the RAM, replace the 1TB drive with an SSD, and for about $1000 you've got a super small desktop with more processing power than most people know what to do with.
It was a blessing for professionals: You could buy 4 such machines for the same money as a single Mac Pro which is less than twice as fast.
Apple aren't stupid. They know this too. Notice that the current line-up of Mac Mini's no longer includes a Server model, probably because nobody ever bought it. Buyers like me would opt instead for the $200 cheaper model with an empty hard drive slot, ready for aftermarket goodies.
Perhaps such a powerful 2012 Mac Mini was hurting Mac Pro and iMac sales, and I guess the decision was made to relegate the Mini to be a cheap "web and email machine". No professional should ever look at it again.
And to bring this point home with a baseball bat, Apple have removed the ability for users to upgrade the RAM or the hard disk after purchase. Even though there is room for a second hard drive in there – just like before – the Mac Mini is now unopenable for mere mortals.
So NO Tim, not "everything is great".
This leaves me with the decision to quickly get one of the 2012 models, or rethink the way I do things with my MacBook / Thunderbolt setup.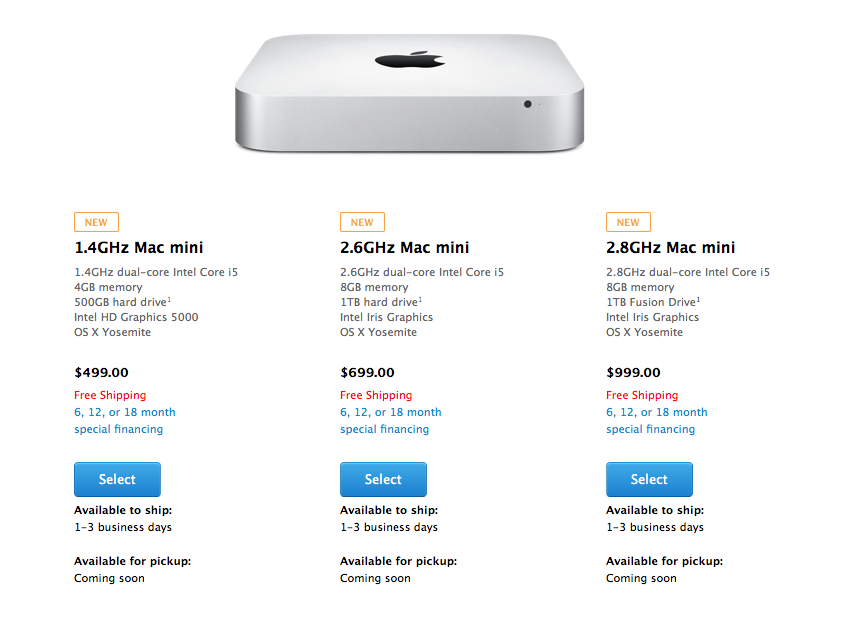 Areas or improvement
I'm really happy with the performance I get from my MacBook: I have a 512MB SSD drive and 8GB of RAM, and my Dual Core i7 is seriously fast for a laptop
. I've also added one of those little Kanex boxes which gives me a USB 3 port via Thunderbolt. As such I've already improved all there is to improve for speed.
One thing I dislike about my current setup however is that my MacBook Pro gets rather hot when it does intense computations (3D rendering, video rendering, etc). It's built to withstand this of course, but when in Clamshell mode (i.e. lid closed) the air flow is limited and I always feel sorry for the little guy.
So I leave it open to give it some breathing space. It works much better this way, the fans come on less frequently, but several problems arise:
First and foremost, the internal display is always on (even when dimmed), giving the underpowered Intel HD 3000 graphics card even more to do than simply powering the 27″ Thunderbolt Display. It now needs to display 2560×1440 pixels, PLUS an additional 1280×800 that I never get to see.
Second, when it's open the MacBook collects a lot of dust which doesn't help the heat matters.
Third, there are only so many times that the Thunderbolt connector can be unplugged without causing permanent damage. It's also annoying that any hard disk attached to the looped USB ports on the monitor complain because they've not been "ejected properly" when the power cuts for half a second (it happens twice a week here).
On the other hand, when the lid is closed the whole desk looks much tidier and – more importantly – the graphics card has less to do, smoothing out my ZBrush sessions and generating less heat. Every little helps, you know.
Solution #1: a Small Magnet
Rather than giving Apple $1000 for a Mac Mini from two years ago, I'll dig out a little magnet which I now use to trick my MacBook into believing the display is closed!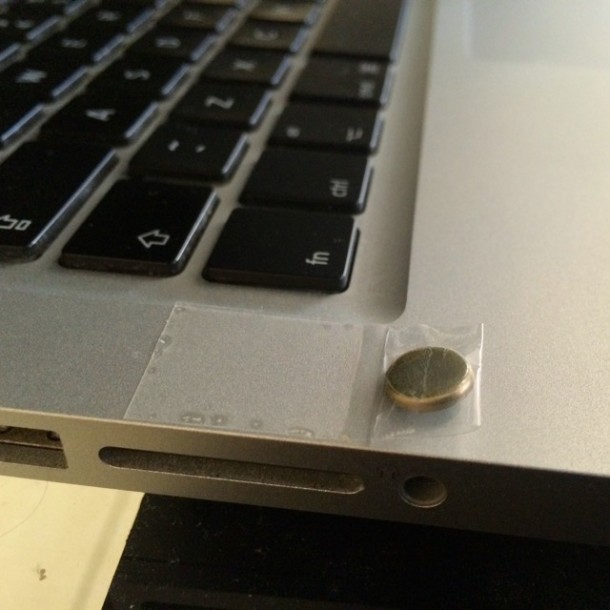 On the left hand side, just under the Function key is a spot where a magnet from the lid flicks a switch in the base which tells the main board "yo, lid is closed". This can easily be emulated so that the OS only sees a single display (namely the external Thunderbolt Display).
I dug out a small magnet from an iPad cover I no longer need and fixed it with a bit of sticky tape. Lid open, case closed!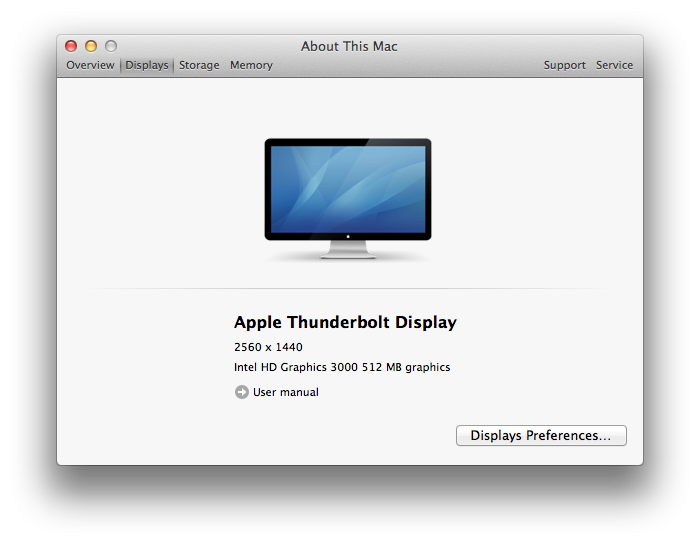 Solution #2: Give more love to Surface Pro
As for using my MacBook as a laptop, I did so mainly for writing away from my desk. It's just an unbeatable typing experience, plus I get access to all my software for screenshots and the occasional screencast.
Before iOS 8 I occasionally used my iPad 3 with an external wireless Mac keyboard for such tasks, which also worked great. I had to do screen grabs afterwards, but the typing experience was still fantastic. I used it with an InCase case which would prop up the iPad and protect the keyboard while travelling. It was like a cheaper alternative to a MacBook Air 11″.
Sadly, since iOS 8 it takes several seconds for a single keystroke to appear in Pages or WordPress. It sucks more than I care to admit. iOS 8 has ruined my iPad 3 experience – which is of course deliberate, because they don't really want us to use anything older than 12 months and buy new devices twice a year.
Instead, I'm giving Windows 8.1 and the Surface Pro more love than ever: since I bought the Type Cover last month it's a pleasure to use it as a small laptop device, in addition to having most of my graphics and drawing apps in a super small powerful package. Did I mention the pressure sensitive stylus which totally rules, more than any squishy compromise the iPad could ever conjure up?
Every app I use – expect for ZBrush – runs on both platforms, and both have their advantages. I'm excited to use both Windows and Mac in tandem, and I guess if I turn my MacBook into a permanent desktop machine I'll delegate more tasks – including writing – to the Surface Pro.
Conclusion
As much as I like Apple products, with every "Special Event" it becomes a little clearer that they've lost the plot. The iPhone 4s and iPad 2 were solid devices, but since then it's gone down hill: the iPhone 6 is bendable, I had to return my iPhone 5s three times to get a working version, and Julia's iPad Air keeps restarting itself every so often.
This just didn't happen when Steve was around. Ever since 2012 Apple replicate rather than innovate. Creating the iPhone and the iPad changed our lives. Laptops as amazing as MacBook Airs and Pros is historic. Those were innovations. Making these things thinner, bigger, or simply replicating what The Other Guys are doing isn't innovation. It's a mere reaction.
And don't get me started on Developer Tools where things are just as bad: constantly changing the way you have to code things prevents us creatives from writing better apps. In fact, it prevents us from writing apps entirely.
So there I was, ready to spend $1000 on a new Mac Mini until last week, and thanks to "innovation" I've decided to save my money and instead greatly appreciate what I have right in front of me. This is a classic case of a lost sale, by a company striding into a direction that is no longer in line with what's best for the customers.
Good luck, Apple. As long as the shareholders are happy, enjoy the ride – while it lasts.