I have previously described how to render DAZ Studio Scenes without DAZ Studio. This is done by rendering to a RIB File (RenderMan Interface Bytestream), using the standalone 3Delight Studio to create the final render. The procedure frees DAZ Studio up and allows you to work on your next scene without having to wait for the render to finish.
I generally use Xender for PC for my file transfer needs, but I've been looking for ways to transfer such RIB files to another computer which does not have the content or even DAZ Studio installed, and I think I've found another one!
When used as described in my previous article, DAZ Studio creates a RIB file that references temporary files as well files on the local system. Neither of those can be used on a different computer because they most certainly don't exist. This means your render will likely be missing a few textures.
There's a handy command line tool that will collate all those files needed to render the image. The drawback is that – depending on the size of your scene – this may result in a rather large file (1GB or more). However the approach is great if you'd like to render that super long animation for several weeks without blocking your regular office computer.
Here's how to do it.
1.) In DAZ Studio, render your scene as RIB File. You can do that on the advanced tab. Make sure "keep shadows" and "collect and localise" are ticked.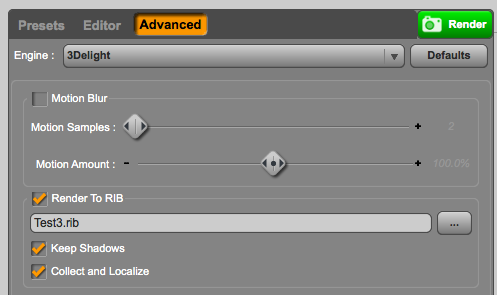 2.) This will create a file and a folder with your specified name. At the location of those, create another folder of your choice. You should now have your original file and folder, and another folder.
3.) On the command line, change into this directory containing those three items. You would do this to render the file now using the renderdl command. We won't do that on this computer though.
4.) Instead, we'll use the ribdepends command, specifying our new folder. Say my RIB file was called "Test3.rib", and that second folder I've just created was called "testing", then I'd execute the command like this:
ribdepends -package testing Test3.rib
The package parameter specifies where we want to collate our textures and shaders to (namely our testing folder), followed by the RIB file in question. 3Delight Studio goes to work and should come back without any error messages.
Make sure DAZ Studio remains open during this step, otherwise the temp files it has created for render optimisation may be deleted and our command won't be able to collate those. You'll be informed of such atrocities with a flood of files that cannot be located.
5.) Transfer your new folder (testing in my example) to another machine on which 3Delight Studio is also installed. Change into that folder and start rendering using the renderdl command:
renderdl -id Test3.rb
And that's it! Your target system can be of any architecture (including Linux) and does not need to have DAZ Studio or any of its content installed. All you need is 3Delight Studio.