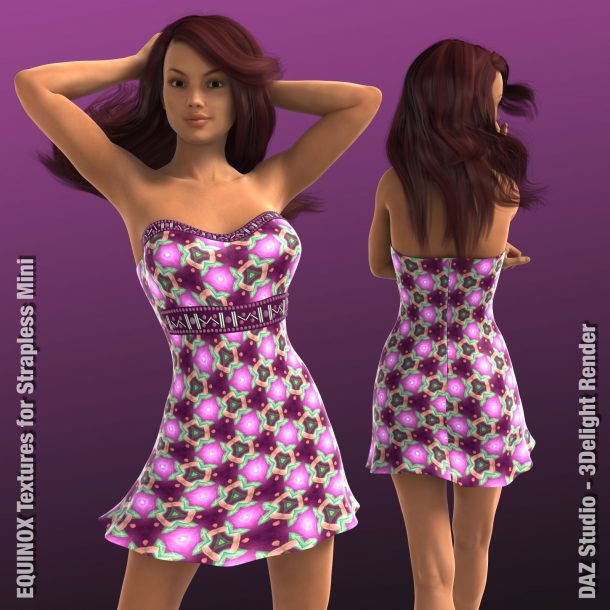 I've just released a new texture pack, this time for the very versatile Strapless Mini Dress for Genesis 3 and Victoria 7, by hameleon and santuziy78.
EQUINOX contains a total of 40 texture presets for DAZ Studio, 20 for NVIDIA Iray and 20 for 3Delight. I've added presets for the whole dress, as well as separate presets for the ornaments (those sparkly little diamonds on the top).
All maps are 4000×4000 pixels, ideal for ultra high resolution renders. You can check out those promos at 1600×1600 by right-clicking on an image, then select "Open in New Tab".
This slideshow requires JavaScript.
Installation and Usage
Unpack all ZIP files into your Poser/DAZ directory.
Load a figure, then apply the "Strapless Mini Dress" to it.
In DAZ Studio, head over to your Content Library tab and navigate to
People – Genesis 3 Female – Clothing – Strapless – Equinox.
Choose either the Iray or the 3Delight folder.
Apply your selections to the dress.
Render and enjoy!
You can buy the Strapless Mini Dress here, and my texture pack is available here.