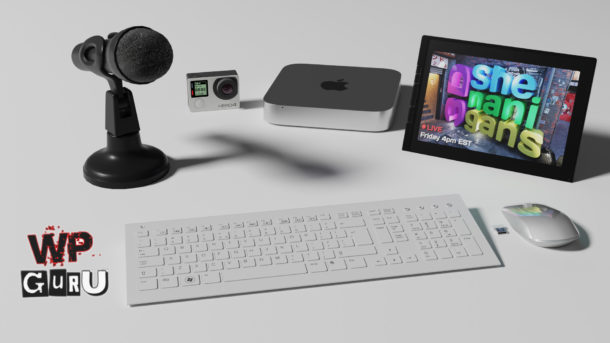 From time to time I get asked what hardware and GPU I'm using for my 3D adventures, including video games. Rather than typing it out every time, I thought I'd make a handy post that I can refer interested parties to, and update as my configuration changes.
This is that post 😉
It may contain more information that necessary, but I thought I'd add it all here, including a bit of history on how this setup came to be.
Hardware
Laptops and mobile devices aside, I have a total of four systems around my desk:
a HP Z800 (Rev B)
a HP Z600 (Rev A)
a HP Z600 (Rev B, which I'd like to call Z601)
an Apple Mac Mini (Late 2012)
I'm using a (rather old) HP Z800 workstation for rendering and PC gaming. I picked it up for a song (about $180) after my previous Z600 appeared to fail, but it wasn't anything serious so I still have it. In fact, I replaced it in 2019 with another Z600, and liked the idea of a render farm so much that I currently have THREE of these HP workstations. Although vintage, they're spectacular bang for your buck.
I first got into this type of hardware in 2016, after a discussion with Jonstark on the Carrara Forums. My Mac Mini was too limiting for anything that required a GPU, and I bought the first Z600 specifically to use a GPU with it.
The Z machines take two Intel Xeon CPUs each, which make them ideal for CPU intense tasks. My main Z800 has two x5675 Xeons, same as my backup Z600 (Rev B). They're 3 GHz hexacore, so I get 24 threads of render magic with these processors. My original Z600 (Rev A) has two e5560 Xeons, slightly slower quad cores, but still packing a good punch for the price (a pair is about $50 on eBay). Those give me 16 parallel threads.
Those workstations do not come with WiFi or USB3, so I've added that retrospectively to my Z800. The Z600's are on a wired connection, and if not used as standby machines, I use them as render nodes via RDP connections (from my Mac via Remotix). All my systems are SSD based, except for external drives.
GPUs
The fastest GPU I could find that would fit into my original Z600 (vintage 2009) midi tower case was a GeForce GTX 970 graphics card made by ZOTAC, with 4GB of RAM. I bought it specifically for use with DAZ Studio, which requires an NVIDIA compatible card for the Iray rendering engine. What makes Iray tick (and render fast) is a metric called CUDA cores. The more of those a GPU has, the faster it can render. Mine has 1664, which at the time was quite impressive. It was $199 when I bought it on Amazon in 2016.
I've used the GTX 970 for many tutorials on YouTube until early 2019, but have since added an RTX 2080 with 8GB of RAM to my Z800. For a while I had TWO of those in my system, and as soon as I have the cash I will add a second card of the same model. It's a ZTOAC Amp Edition, and I was attracted to it because of the price point ($749 in early 2019), and because Brian Cramer was kind enough to leave me a comment on his render results. He had this card, and after seeing its performance, I bought one myself. Never regretted it.
The RTX 2080 has 2944 CUDA cores, which means that for a while I was rendering with 5888 CUDA cores there. I can't wait to do that again. Perhaps I'll try the RTX 2080 Super next.
With my second Z600 came another NVIDIA card, an old Quadro K4000 with 768 CUDA cores. At its launch in 2013 it had the hefty price tag of $1249, but by the time I got it in 2019 it was thrown in. My plan is to use it alongside the GTX 970 one day, and get another two RTX 2080s (or at least one RTX 2060 for my second Z600).
Operating System
Although my original Z600 came with a Windows Vista Professional license, I've installed Windows 10 Pro on it pretty much immediately. It needs the Pro version because it has multiple CPUs, which cannot be addressed by the Home version. All of my Z workstations run on Windows right now. I may try out CentOS 7 on one of them.
You can read more about how I built the Z600 system here.
My Mac Mini is my office computer for email, video editing and Photoshopping. It runs High Sierra for compatibility with some older 32bit apps I like to use every once in a while.
Input Devices
I have a number of input devices attached to my system. I use a mixture of super cheap and cheerful devices, as well as expensive gadgets to get the job done:
Logitech MX Master S2 Mouse (new)
Logitech M325 Wireless Mouse
Logitech K360 Wireless Keyboard
Microsoft Xbox 360 Wireless Controller for Windows
Elgato Stream Deck (15 key edition, for OBS vision mixing)
Elgato Stream Deck for iOS (on my iPhone 6s Plus, for sound effects)
Wacom Intuos 4 Wireless (occasionally)
Consoles
I also have a several games consoles in current use:
Playstation 4 (Slim)
Playstation 3 (Super Slim)
Nintendo Wii (with WaveBird wireless GameCube controller)
Other Devices
Aside from the above, I also use the following:
a quad Mac Mini 2012 (on my desk)
27″ Thunderbolt Display (on my desk)
two quad core Mac Minis 2012 (in Las Vegas)
Microsoft Surface Pro (First Generation, often on my desk)
3x GoPro cameras (HERO 4 Silver and 2x HERO 5 Black)
Blue Yeti microphone
2x Zaffiro Desktop USB Mics
Logitech C930e Web Cam (main)
Logitech C922 Pro Stream Web Cam (secondary)
various iOS devices
various lapel microphones
Bose Soundlink II Speaker
2x 27″ Acer S271HL Monitors (one for me, one for my wife's desk)
a MacBook Pro 2011 when I'm out and about
I will keep this list updated if/when I add new things to this setup. If you have any questions, please feel free to ask below.