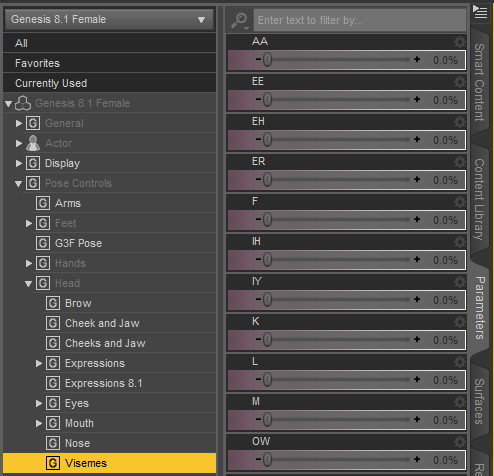 I've been playing with the new Genesis 8.1 figure in preparation for a project. Most things seem to be working OK, and as expected – including body morphs and may expression sliders. Something that did not show up was visemes. I use them quite often to create expressions, so they're very important to me. I guess they should be working out of the box, but alas they do not. The QA department has long left Utah I guess…
I did some digging and found that I was not the only one with this problem. Somewhere on page 39 of a huge thread on the DAZ Forums, Matt Castle had an excellent tip. The following folders inside our library's data directory apparently have dummy files that somehow "block out" our visemes, at least in the current iteration of the figure.
Genesis 8.1 Female:
data/DAZ 3D/Genesis 8/Female 8_1/Morphs/Daz 3D/Base Pose Head
Genesis 8.1 Male:
data/DAZ 3D/Genesis 8/Male 8_1/Morphs/Daz 3D/Base Pose Head
By simply renaming these folders (say to "xBase Pose Head"), they won't be loaded and can't block out the visemes when we use a Genesis 8.1 figure. It's ingenius! Thanks for the tip, Matt 😎
Before you start making these changes, make sure to close DAZ Studio 4.15 down. After you rename those folders, take a look under Parameters – Pose Controls – Head and find the Visemes Folder in perfect working order.
Let's hope DAZ will fix this at some point soon so this hack won't be necessary for long. On this occasion, perhaps they'll give the Genesis 8 Starter Essentials folder the correct name (because Male Power Pose templates are… something else entirely). 😂