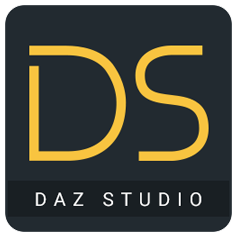 Sometimes it's handy to have DAZ Studio render something in the background, while you're working on the next scene in the foreground. Sadly that's disallowed by design, even though it would be a super handy feature to have. Think how elegant the Poser Render Queue or Adobe's Media Encoder implement such workflows. We're busy people after all, trying to not let out computers sit idle for too long.
There are two ways to tackle this in DAZ Studio, I'll explain both options.
Install a second version
My preferred way of working with two instances of DAZ Studio is by keeping the latest beta version close by. You can get it from here. The beta installs itself alongside the release version, so you have two DAZ Studio icons from which you can launch. Most of the time the feature set is the same as the release, with newer features being available first in the beta. Sometimes the beta is ahead, and both versions access the same library so you won't have to install your content twice.
The beta has its own preference file, so any customisations you've made in the release version would have to be made again in the beta. For all intents and purposes it's a completely separate programme on your computer. You can run both versions at the same time, and do two different things at the same time too.
Working this way has advantages and disadvantages. I love it because if one version of DAZ Studio hangs, or has an issue with quitting when it should, the other one usually doesn't. When a new version is released, I tend to stay on the beta so that I have a working fallback of the previous version.
At the same time, you may run into an issue where the versions could differ: menu items may have moved to different locations, or the render/simulation engines have different features. This could lead to confusion and/or slightly different visual outcomes. I've never had this happen, but it remains a theoretical possibility.
Using a handy instance script
The other way of launching a second instance of the same version of DAZ Studio is by using a handy instance creation script. Sadly I don't know who authored it. A viewer of mine has forwarded it to me, and I thought I'd share it with you. Apparently it came from a forum post and it's encrypted, so I can't thank the author for his/her hard work.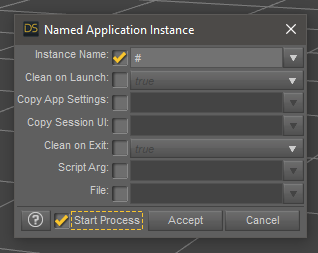 To use it, merge the script into your scene (or for convenience, copy it into your library's Scripts folder). The above dialogue window will open. Tick the Start Process box at the bottom, then hit accept. Your current scene will remain open, while DAZ Studio will open again in the background. Load a scene and start rendering, while working with something else in your other instance.
Thanks to Patrick for bringing this to my attention 🙂