I had a minor catastrophe the other day when all my Smart Content had seemingly disappeared in Daz Studio. I've had such things before and could fix it by re-importing all my metadata, but this time round it didn't seem to work. I had to first reset the whole database, then employ a very specific workflow for it all to come back. I thought I'd share how I've fixed it here in case this happens to you or me in the future.
All my content was still functional, and no files had been deleted from my drives, it was merely a database issue that may have happened as a result of some pre-release Genesis 9 files that may have caused it. I had seen products twice, missing thumbnails and other spurious things in the lead up to this issue. Here's how I've fixed it.
Right-click on the Smart Content Tab and choose Content DB Maintenance. That's the menu we'll do all our work in.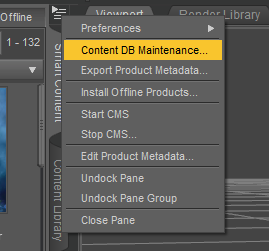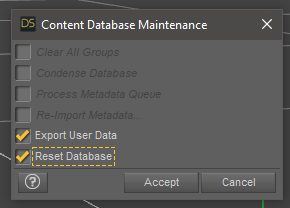 If you only select Reset Database, Daz Studio will automatically offer to export your user data beforehand so none of your customised categories will be lost. I'll talk more about where those are saved in my next article. Click accept and let it work for a moment. If your Smart Content wasn't empty before, it certainly will be now as all entries will have been removed from the database, and all configuration files have been rebuilt.
You'll be prompted to login again with your Daz credentials, so go ahead and proceed. Daz Studio will now connect to the Daz server and display that it's updating metadata at the bottom left of the interface. Keep an eye on the progress and let it finish its thing until the update messages disappear. I had previously rushed ahead to the next step and ended up right where I started, namely with an empty Smart Content tab. This will take some time, so be patient.
When Daz Studio is finished, choose Content DB Maintenance again and choose Process Metadata Queue and Re-import Metadata. This will bring up a list of all your installed content, or rather content that was installed through Install Manager.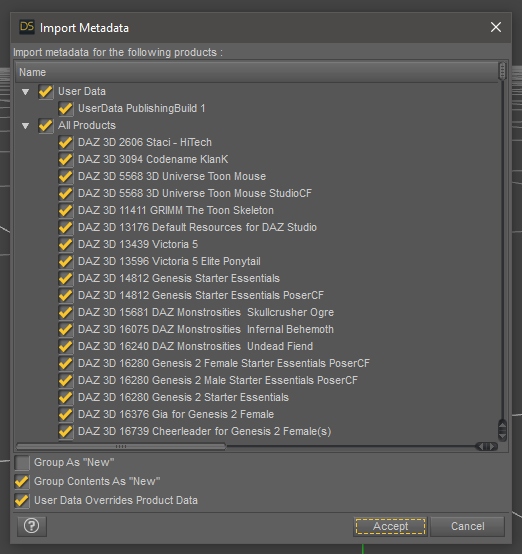 Note that after resetting the database, it appears to be vital to let Daz Studio finish communicating with the server before you make any other attempts at database operations. Failure to do so seems to upset the process, or at least it did for me.
Hope this helps, and happy rendering!