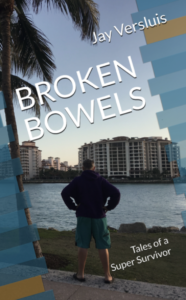 Last month I've been flat out writing the last chapters of my book "BROKEN BOWELS – Tales of a Super Survivor". In total I've written a whopping 109.944 words.
Not all of them made it into the final cut mind you, which by the way has an astonishing word count of over 132.000. That's nearly three times as much as I had originally set out to write.
The Kindle Edition is already available, and now I'm working on creating a paperback version too. All my Patreon supporters get a free copy of the ebook!