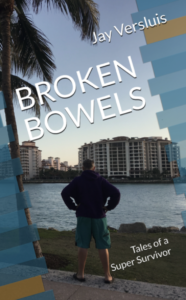 Last month I've been flat out writing the last chapters of my book "BROKEN BOWELS – Tales of a Super Survivor". In total I've written a whopping 109.944 words.
Not all of them made it into the final cut mind you, which by the way has an astonishing word count of over 132.000. That's nearly three times as much as I had originally set out to write.
The Kindle Edition is already available, and now I'm working on creating a paperback version too. All my Patreon supporters get a free copy of the ebook!
Kindle Edition
I had set myself the deadline for a publication on the 4th of July, thinking this would be an appropriate date for my book to come out. Not only is it Independence Day in the US, it's also Jerry's birthday (although I didn't know it at the time I picked the date, which was back in May).
I've published the book using Amazon's KDP service and slated the title for pre-order. This meant that I had until the Saturday, the 30th of June, at precisely 20:00 EST to submit the final draft.
By that time, I didn't even have a chance to read the whole thing from cover to cover, all I had done until then was frantically write, making sure I wouldn't forget anything. Thankfully Julia took two days off work to help me skim through what was to become Version 1.0 so we could meet the deadline.
My idea was to make sure we had the Kindle file ready by 6pm. Just in case the Amazon server wasn't happy with it, we'd have some time to adjust it if need be. Turns out that we kept working on additional passages right up until the end, past 7:30pm.
Creating an ebook file is very often not a straightforward process, with pitfalls waiting everywhere. Thanks to Storyist, and great support by its author Steve Shepard, it worked swimmingly. With no time to spare, the last thing you can afford is for Amazon's server to come back with "there's something wrong with your file" (seriously, that's how vague their error messages are).
My original plan was for one of my doctors to write a foreword, but because of time constraints, this wasn't possible anymore. Then I thought, perhaps Julia could do it. I thought she would be more than qualified for the job, because she was with me every step of the way throughout the journey.
When I asked her if she wanted to do it, she agreed! After reading the whole manuscript, she started writing the foreword at 7:30pm. Now she gets two… no three credits: Editor, Cover Photographer and now Foreword Author.
Talk about the Eleventh Hour… well it all worked out in the end, and I've submitted the final draft of Version 1.0 with 6 minutes to spare.
Well done to both of us for getting it done on time!
Corrections
I spent the first few days of July reading Version 1.0 on my old Kindle Keyboard, up in Maurice Gibb Memorial Park, overlooking Biscayne Bay (as much as the hot weather would allow it). Needless to say, I've found dozens of typos and misspellings, some of them courtesy of the hideous Auto Correction feature, which often tweaked the meaning of my sentences to something I didn't even recall writing.
I was using Storyist to write the book, which is available for both macOS and iOS. This means that when I spotted a mistake, I could immediately search for the passage on my iPhone and correct it there and then. It's a great way of working, very fast and efficient, and it only requires two small mobile devices.
When all the corrections were made, I've noticed that Amazon did not allow me to upload the new version to their KDP system (that's short for Kindle Direct Publishing by the way). Because I had slated the book as a pre-order, I could only submit a new version as soon as it was released, which meant that some customers inevitably got the uncorrected version.
That's a shame. Thankfully there's an easy solution should you find you have an older version on your device:
The most up to date version as of today is Version 1.2, and it can be obtained by deleting the current version from your Kindle, then re-downloading it from Amazon (from the Cloud Tab, or the Archived Items option). You can check which version you have on the copyright page at the beginning.
Paperback Edition
July has already started, and thanks to the features in Storyist, I've spent the last two days preparing a Print Edition of the book. I'm currently waiting for Amazon to approve the PDF I've just uploaded.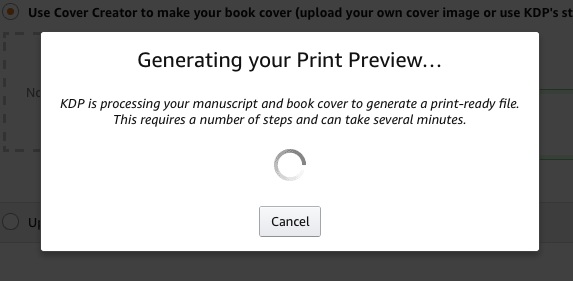 My original plan was to create a 5×8″ regular sized paperback, but due to the length of the book, it would have had over 600 pages. Although impressive, it means that the printing costs would have been over $10 per copy. Apparently it doesn't matter how large the page is, and those costs are calculated per page.
Amazon insist on setting the minimum sales price at 60% over the printing cost, which would have made the book too expensive for my taste. Larger pages cost the same to print, but hold more text – so I've decided to go with a 6×9″ version, the same as my previous book LAMP Stack for Humans. This brings the final page count down to "only" 482, which means the book can sell at a more reasonable $14.99 in the US, and just under £12 in the UK.
Speaking of LAMP Stack for Humans, I've used CreateSpace for the paperback version of the previous book, a print on demand publishing service that is owned by Amazon. At the time I created it, ebooks had to be uploaded to KDP, while paperbacks could only be created with CreateSpace. Times have changed since then, with Amazon now integrating both services under KDP. Rumour has it that CreateSpace will be wound down as soon as all features are available with KDP.
Being the adventurous forward-thinking kind of guy that I am, someone who doesn't shy away from trying out new things, I've decided to give the KDP paperback option a go with Broken Bowels. As soon as I get my hands on a copy, I'll be able to tell you how the two services compare.
From what I understand, as soon as my PDF is approved, it can be ordered. How long that takes is anyone's guess, but it'll appear on the same book page at Amazon.
What's Next?
I have plans to release an Audible Audio Book Edition and a German Edition of Broken Bowels too. The Audio Edition depends on where I find a quiet room, while the German Edition depends on how much I want to re-live the whole scenario again. There's also the issue with all the medical jargon that I've learnt over the last three years, which is something I do not know in German.
It's a loose idea at this stage, and I have plenty of other things planned for this year, so no promises about if and when any of the above will happen.
Since I've learnt so much about Storyist, the writing application I've used to create the book, I'll create some screencasts about it over the next week, while the knowledge is still fresh in my head. Those will be about using Storyist and how to navigate its intricacies, but also about my writing process, something that's different from person to person. I've often wondered how other people do it, so perhaps by sharing my process, others can benefit from it.
Once that's done, I'll get on with the DAZ Studio tutorials I keep promising.
Sometimes there's just not enough time in the day/month/year.