On a spontaneous trip to meet Al Monty and JB, we checked out this very wine based gastropub in the centre of Verulamium, or better known as St. Albans.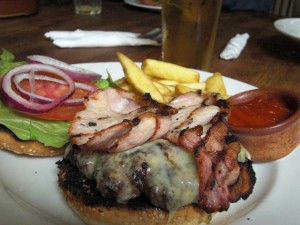 A decent burger, with plenty of oompf. They do the 8oz and 10oz version, with various toppings and in various styles. Bacon, Emmental Cheese, baby tomatoes, anything you could think of. This place could have been a burger bar in a different life.
I opted for the 10oz version, which comes with chips, and is only £6.90 – which is a bargain compared to London prices. You get this with a pint of coke for under a tenner, which gives extra plus points right from the start.
As for condiments you have Heinz squeezable mayonnaise (which was empty), mustard and Heinz ketchup from a glass bottle. But you also get a side dish of their famous "Bloody Mary Ketchup" in a little pot on the plate, which is great – a hint of Tabasco and a bit of something else make this one an unexpected dunkable delicacy.
The burger itself is huge. Definitely the size of a DVD, with a grilled sesame bun. Mine was a bit burned, but the waiter exchanged it immediately for a nicer one. Full of meaty goodness I say, this home made burger stands out. Well done yet juicy, served with a huge slice of tomato and two slices of lean bacon. Bit of lettuce, and that was it.
The chips were special too: thing cut, like fries rather than thick cut, with the skin on in places. These babies are not off the shelf and remind me of what you get at The Outback Steakhouse (but different… you get my drift).
Verdict: it was so big that I couldn't finish it. That's a GOOD sign. It was juicy, it was tasy – it was the best! Up there in Burger Heaven, not even The Diner can touch it!
11 Thumbs Up!