Having received a raving review on the Beef Burger, I decided to give Deliverance another go.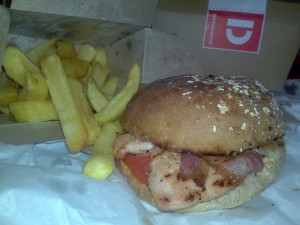 However, on the Chicken Burger, they couldn't quite "deliver".
With the usual sweaty chips and all the ingredients you would expect from a good burger, this one came to the office luke warm. On top of all that, the top of the granary bun was rock solid hard.
Not good, especially when we know they can do better. Considering £8.50 plus £2.50 chips, we're all very disappointed… In their defence, I must admit having had this dish before, and it was definitely on to another winner.
Bad luck in the kitchen, I guess you just can't win the all.
Verdict: grab a Pot Noodle