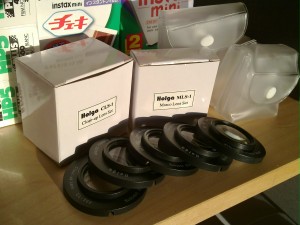 If you wanted to take pictures closer than 1m (3ft) with your Holga, it meant you had to hack it and permanently mutilate your camera. Even then, putting things in close focus was a guessing game so I never bothered.
Thanks to these two £10 packs of add-on lenses, you no longer need to do that: snap one onto your Holga and start shooting up-close and personal. Since the barrels are the same on the 120 and 135 models, these babies will work on all my seven Holgas. Sweet!
I couldn't resist and bought them both at the Photographer's Gallery. I am currently looking into doing somethig similar to Little People in the Big City with Holga and Diana so these lenses seemed ideal for the job.
What I got was no fancy packaging, a clear set of instructions and a total of FIVE lens rings in a cute plastic storage pouch. All that for £19.98 and I wasn't even looking – amazing!
What's in the Box
There are two sets you can buy seperately, each set costs £10. The MLS-1 Close-Up set contains
a 500mm lens
a 250mm lens
and a 120mm lens
The other set is the CLS-1 Macro Set and goes much closer, containing
a 60mm lens (my favourite)
and a 30mm lens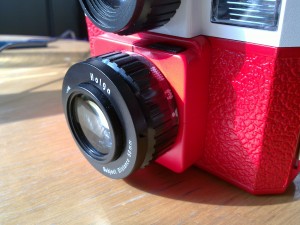 These values are effectively your new focal lenthgs. You'll have to set your Holga focus to infinity for those to work and place your subject dead on into the focal point for it to come out sharp. The closer the focal lenth, the shallower your depth of field will become – and the quicker your subject will appear out of focus if you're a little off the mark.
It's best to use a measuring tape when you're taking shots as I found that "guessing" 30mm doesn't really work (unless your very experienced of course). There is talk of a camera stand at the bottom of the instructions that would have built-in rods to show you where your subject needs to be – I'll see if I can find that somewhere.
Let's see some pictures
For this test, I used a 10cm tall figure of a wedding couple that may or may not have been on top of a wedding cake at one point. The figures are hand painted and very detailed.
I used my new red and white Holga 120 GTLR to shoot them, thinking maybe the TLR viewfinder may come in handy. Well it doesn't – not when your subject is 3cm away from the lens (because of the parallax problem). In fact, forget the viewfinder for this mission altogether (like we ever used the Holga viewfinder before).
These pictures were taken in strong morning sunlight on Kodak Portra 160VC, immediately developed afterwards and scanned a day later. We were too excited!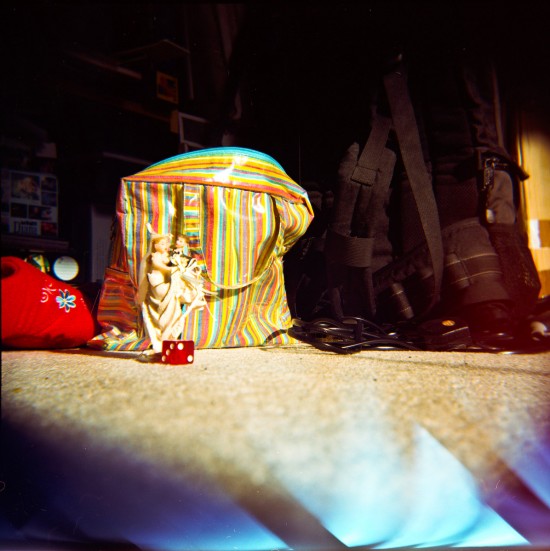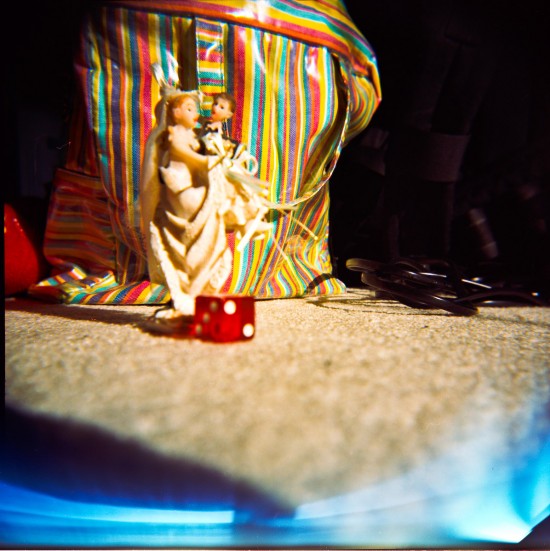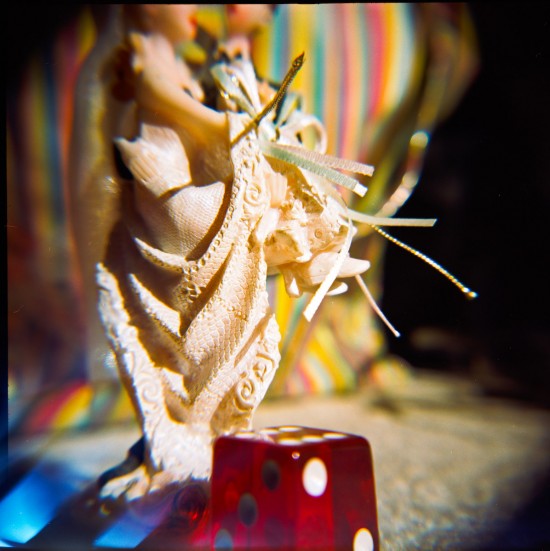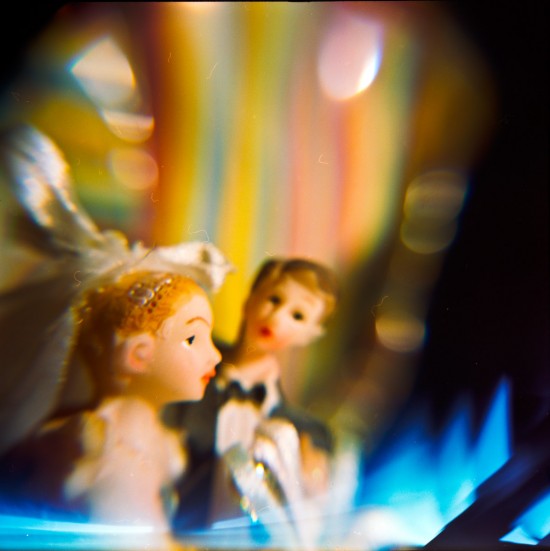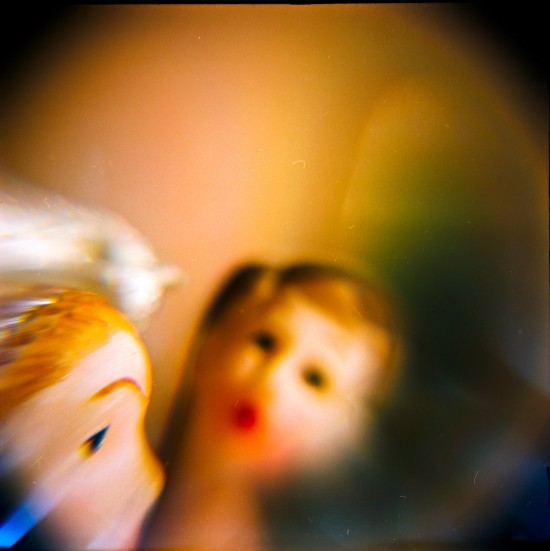 The only way you have to control focus is by moving the camera or the object your're shooting into the focal point. As I said earlier you have to be very accurate with this, especially when you're using the 60mm and 30mm adaptors. Here's an example of what happens when you're less than 5mm out: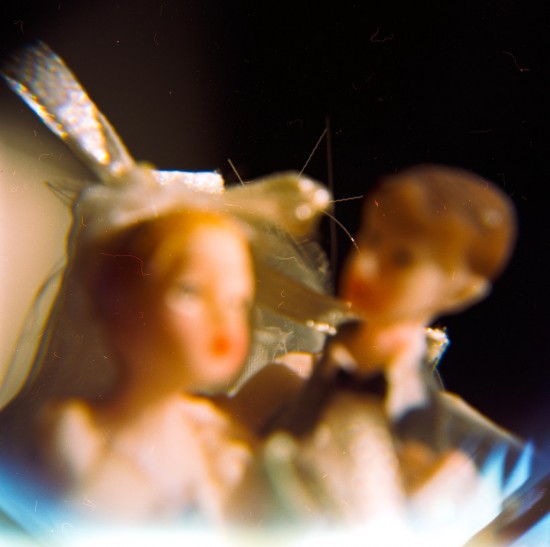 Here are some more I shot on those two rolls. Lighting is the same, objects vary from Rubik's Cube to Lee Filter Swatch and anything tiny we could find in the lounge. The full set can also be found on Flickr.
[nggallery id=42]
Conclusion
A superb addition to the Holga Line-Up, these add-on lenses work with both the Holga 120 models and the 135 models (I still have to try the latter and will amend this review accordingly).
You get a good range of variety that expands the way you can take Holga shots into an unseen world. Even with modded Holgas you won't be able to get results this accurate. Filing off that lens barrel pin and faffing around with film canisters is a thing of the past!
For a price of £10 for each set this is a no brainer. If you wanted to try one before you buy the other, I'd strongly reccomend the CLS-1 for use of the 60mm lens.
If you compare the competition (i.e. Lomography's Diana+), you get one equivalent 150mm lens in the Wide and Up Close set for £35. Tokina (Holga's creators) give you 5 lenses for £10 each (£20 total) and you'll get much more variety.
The lenses come in their own pouch and are so small you can carry them anywhere. I love them dearly and can't wait to take more pictures in Macro Universe 😉