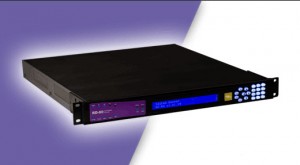 Since we started to explore the possibility of satelite transmissions in 32APSK last year, Adtec have been busy working on a new box that could potentially revolutionise the way we think about satellite receivers.
Imagine we could have 30% better pictures and 4x the amount of discreet audio channels than we currently have, but at the same time use the same amount of satellite space and hence maintain transmission cost? Or perhaps reduce the costs and keep the current picture quality?
Well the Adtec RD-60 makes this possible: by combining H264/MPG4 and 32 APSK instead of the current broadcast standard of MPEG2 and 8PSK you can save money or increase the quality of your transmissions. Too good to be true? We've tried it – and it works 😉
The unit is currently in its final testing stage and I was one of the lucky geeks to get my hands on this new puppy. In this article I'll share my brief experiences and will talk you through what this new IRD has to offer.
This review is based on a courtesy unit that was given to us at IMG for testing. We're using Software Version 1.02.14 E
History
Adrian from TV2Go told me that the boys at Adtec have been working on this unit since February 2010. Shortly after the features had been decided upon, hardware was manufactured and the first unit was available to selected testers in late 2010. At the time of writing it is mid January 2011.
Features
What makes this 1U unit so special isn't only the blue flashy lights at the front. Apart from an excellent web interface we have
2 RF inputs
4 ASI inputs
IPTV input
6 pairs of audio – that's 12 discreet channels on the output
integrated Dolby E Decoder
4 HD SDI outputs
GigE and Ethernet connections (you can set seperate IPs and gateways for these)
2x USB ports for future use (use your imagination)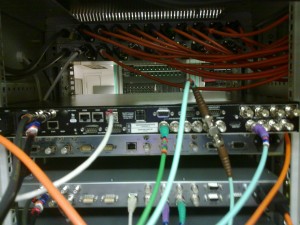 The first thing that strikes me is the web interface. It's easy and intuitive, even though the idea that you have to "log in" to the unit may seem strange. It's because under the hood the RD-60 is running a Linux Kernel which requires every user to log on to the system before you can make changes. Default credentials here are "adtec" as user name and "none" as password.
I would think that if you're working across several units, you could pass those credentials via the URL – and as soon as I find out how I'll let you know.
The web interface itself is very straightforward – just type in the IP address of your receiver and off you go. I'll show you this in a screencast in more detail.
Many of the RD-60's features can bought via license keys – so if you need that integrated Dolby Decoder you can save a buck or two. That keeps the price of the base unit down and makes upgrading at a later stage easy and convenient.
Input Selection
Once your signal is locked, you'll see all available service on the input selection screen on your web interface. When I say "all" I really mean that – you could have an ASI stream, AND an RF stream AND even an IPTV stream connected on all inputs at the same time, and the RD-60 would show you all of those. Then you go ahead and select which one you'd like to unit to display.
This is different to the usual approach of telling an IRD which input to look at for services (like on the Tandberg 1290).
Audio Matrix built-in
The RD-60 has the potential to transmit 6 pairs of discreet audio. That's… a LOT! At the same time, that's what we're dealing with today. It can offer those either as embedded groups with the video or AES pairs. But what it can also do is to map the channels.
So instead of you having to do this with another piece of equipment once the signal leaves your receiver, you can select which pair leaves on which group – job done! This is a nice approach and keeps it separate from PID selection. Imagine this in conjunction with a built-in Dolby E Decoder, where you could then map individual decoded channels.